For the past couple of weeks I've been highlighting people who are extremely worthy of recognition.
They are the recipients of The Most Loving People Of Our Time Award.
Today, I'll be sharing 3 additional loving people with the intention of honoring them and inviting you to get to know them a little more if you don't know much about them already because they will undoubtedly inspire you with the work that they do, but most importantly, with the beautiful way they share their gifts with the world which are infused with so much love that it trickles down to their followers in great quantities. And as a result, this bounty of love inspires us to be more loving.
If you need further background as the the why behind these awards, read the 3 posts before, especially the previous post, where I explain what the criteria for this award is and what the asterisks beside their names represent.
So get comfortable and let me introduce you or re-introduce you to some of my favorite people.
Ellen DeGeneres*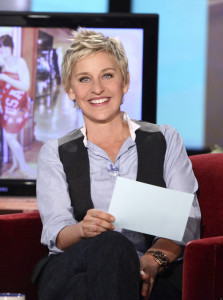 Who she is: She's a host of her own show, the Ellen DeGeneres Show. She's an actress, writer and producer. She is best known for being a comedian. And in recent years (2007 and 2014) for being a host of the Oscars/Academy Awards. (Remember that celebrity-filled selfie that circled the world millions of times in a less than 24 hours? It was her idea. Catchy, right? Yep, that's Ellen.)
What her best talent is: One of the things that I most admire about Ellen is her ability to make me laugh.
And let me tell you, not everybody is good at making me laugh. It's the silly, almost childish things that make me laugh. I also enjoy the type of witty humor that doesn't go over my head. Ellen delivers on these points. The fact that she laughs at her own jokes with that funny laugh of hers makes me laugh even more.
Although Ellen is extremely talented in many areas, I believe that her best talent is connection. Like Jim Carey, she has a knack for connecting with her audience's "funny bone" but most importantly, with their heart. And they leave a trail and a message… one of which is to enjoy the ride called Life.
Some of my favorite funny moments have been when Ellen:
Dressed up as Sofía Vergara
Directed Amy to Costco to talk lyrics
"Participated" in The Bachelorette
What I love most about her:  Ellen's love for others is superb! She's like an angel disguised as a comedian. She really is! She is generous with the opportunities, exposure/airtime, financial help and gifts that she gives others.
She is kind with children.
She likes to support the underprivileged.
She stands up for the rights of animals and people.
And she's 

authentic

.
Under her cool demeanor is a warm heart that values the soul of the people that she comes in contact with. No matter what their background is.
One of my favorite segments of her show is the one in which she tests people out in various situations to see if they can be kind to one another. Like in this clip, in which she was testing to see whether someone would help a pregnant woman at IKEA:
There's one thing I know for sure when it comes to Ellen and that is that if there is a way to make the planet better, she works on that. And at the very least, she inspires us to be more accepting of one another.
Plus, she really, really goes after her dreams. For example, Ellen said she wanted to be on the cover of the O Magazine (Oprah's magazine) even though Oprah had been the only one on her covers up to that point. And Ellen made that dream come true for herself by calling Oprah as many times as needed to finally grace an O Magazine cover.
Ellen is the EPITOME of what a famous and/or wealthy person should be like. She is loving to the max! Wealth and fame are not a barrier between her and the rest of the world, rather,they're the props that help elevate that connection.
Ellen teaches us that life can be enjoyed while looking out for one another.
And that we're all in this big playground of life together. We all are capable of being kind to one another, playing together and standing up every day to dance.
Brené Brown*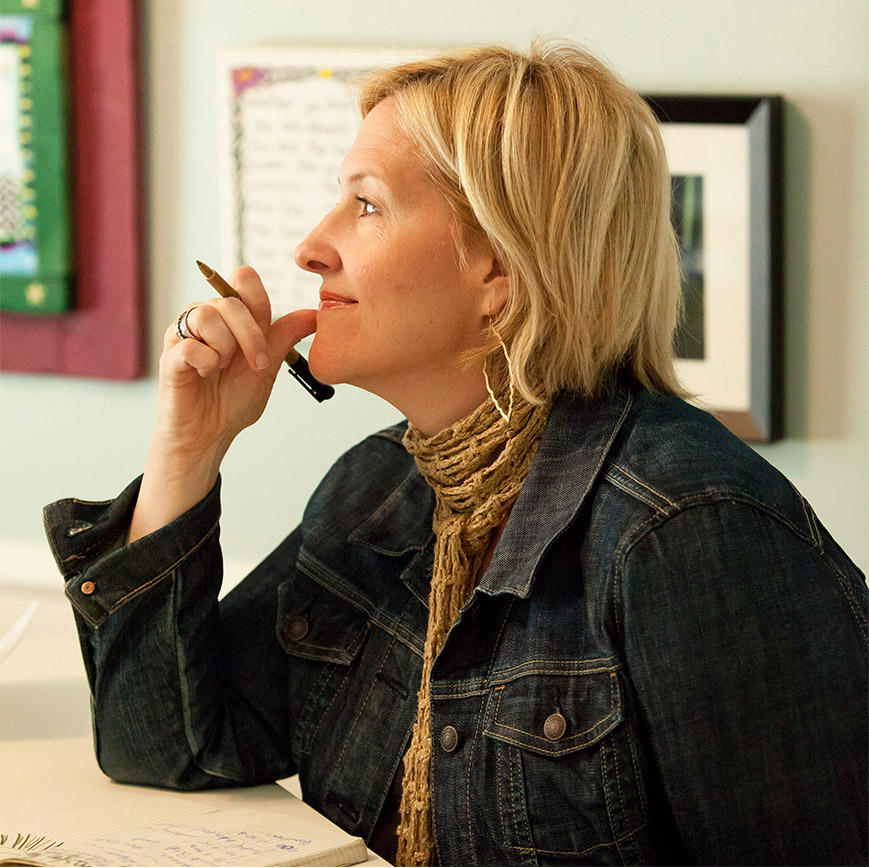 Who she is: If there is a treasure in the human race… it's Brené. I really don't know how I ever lived without her knowledge, inspiration and courage.
She shares the type of knowledge that is soooo bright that it momentarily hurts your eyes…but when you have the courage to really look at it, you notice that it is basically a research portrait of the human condition and it's absolutely beautiful.
I've always been fascinated by resilience to the point that I've written school papers on the subject. But Brené? She takes that topic to unparalleled levels and unparalleled beauty.
Brené is a well-known shame, vulnerability, courage and worthiness researcher whose TED Talk went viral (to the tune of over 19 million views and still growing) not only because the "data that she collected and presented on others was great, but because the "data" that she collected on herself and exposed on herself is WOW… so real and so relatable! It speaks to our heart, it speaks to our fears, but most importantly, it speaks to our potential.
As if that weren't enough, Brené is author of many best-selling and deeply-loved books.
Furthermore, she's the CEO of her own teaching and certification program called The Daring Way, which is only available to certain licensed and certified professions, but that has great popularity to the point that there are no available spots for the U.S. training for the remainder of this year or next (2015 and 2016).
What her best talent is: Brené is a master at exposing the heart wounds that we all have to allow light to enter into our life. And letting light into areas of our life we're afraid of sharing makes such a difference in the quality of life that we lead.
She helps us remove the emotional shackles that we had knowing that we are not alone.
Not only are we not alone, but we are free to be proud of ourselves if we dare sooo greatly that we take ourselves to the arena like this Theodore Roosevelt quotation says:
"It is not the critic who counts; not the man who points out how the strong man stumbles, or where the doer of deeds could have done them better. The credit belongs to the man who is actually in the arena, whose face is marred by dust and sweat and blood; who strives valiantly; who errs, who comes short again and again, because there is no effort without error and shortcoming; but who does actually strive to do the deeds; who knows great enthusiasms, the great devotions; who spends himself in a worthy cause; who at the best knows in the end the triumph of high achievement, and who at the worst, if he fails, at least fails while daring greatly…"
The way that this quotation has inspired her and the way that she presents it is sublime. You can watch an interview that she had with Jonathan Fields (who I'll talk about below).
The whole interview was great, but the part where she talks about this quotation is one of those things that you at least have to watch 5 times because it's THAT good.
Brené's magnetism is at the level of Oprah and Deepak given that Oprah herself invited her to create an e-course (actually called an o-course) with her. Brené connects with audiences instantaneously within her first words. It's truly a delight to see. And she is funny! I would have never thought that research and comedy could mesh, but they do, thanks to her.
And this magnetism is something that I believe really has made her teachings, and research in general accessible. No longer are research articles written for the few researchers that will read them only to see if they are cited in it.
When it comes to research on humanity… Brené has shown us that it's the most meaningful when the results are shared. Why? Because people need solutions. They don't want to be analyzed under the microscope only to be told "thank you for exposing your most personal pains so that we can make of the data what we want." People are now more invested than ever in what the world does with their physical and emotional ailments because they want to lead a better and more conscientious quality of life.
What I love most about her: I love how Brené is willing to be vulnerable on stage so that we didn't have an excuse to be vulnerable in our own life (especially with ourselves). 
Brené is so humble. She talks about her physical appearance gremlins publicly, without realizing how beautiful she is both on the inside and the outside. She's like a shame and vulnerability hero, who says… I'll go first. Without realizing that when she does, we can't help but say, we're going with you.
I love her southern charm. She's by faaaaaaar, faaaar, far the coolest Texan I've ever met. Not only is she the coolest, she's my favorite.
She's has the perfect balance between:
the deep and the playful.
utter concentration on research and full presence in the now.
admirable dedication to the stories of others and loving dedication toward her family. (I'm sure her kids and husband are suuuuper proud of her).
the approachable and the sophisticated (although she would probably deny that she is sophisticated… but she has great taste where it matters, and THAT is true sophistication).
Brené has a doctorate and is a University professor, but she talks, converses, presents and shares like she's the most awesome next-door neighbor you've ever had.
To be honest with you, I didn't remember that she had a doctorate, until I was writing this article. Why? Because she doesn't lead with her credentials…she leads with what can help her audience.
The focus isn't on her, but it's on "us"… the "we" of the world.
When Brené says that she's a shame and vulnerability expert and you can't help but be intrigued. As she shares, some people may be intrigued but they want to run in the other direction, but I think deep down, everybody who first encounters her must say:
"Wait, you get me?
You understand how hard it's been to be ashamed of this thing that I've been through?
You've talked to other people who have the same fears that I do?
Who hold back from being the best version of myself like I do?"
That type of conversation builds immediate rapport, if you let it.
Brené is not only a treasure of a human being, she also holds many treasures of humankind. Treasures of the heart. Treasures of truth. Treasures of what it is like to be alive.
I think that what she shares with us are pure gems. And we should learn from her because in doing so, we learn about what's possible for us, if we dare to step into the arena and do our thing not in spite of our vulnerability, shame, lack of confidence and doubts in self worth, but because of them.
Here are her TED videos you might enjoy:
Jonathan Fields*****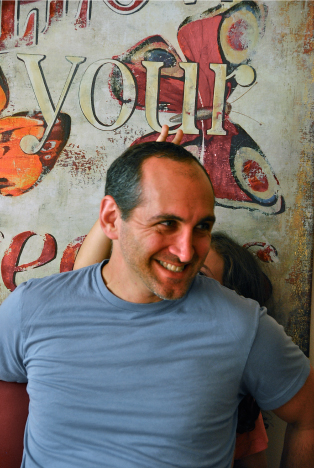 Who he is:  He is a proudest dad I've ever met. I love how in social media he says that he's a father first. I relate to that greatly because I also consider myself to be a mother first. The way he talks about his daughter is heartwarming. He is an involved father… the way all fathers should be. Plus, he's very loving towards his wife.
Of all the career changes I've known of, I love his the best. Imagine a lawyer who set aside his career to become a yoga studio entrepreneur? That's Jonathan! He then became an media-producer with a wonderful web-series called the Good Life Project where he raises consciousness worldwide to what living well on your terms looks like. He is an interviewer/conversationalist, speaker, podcaster, author and innovative summer camp director that believes in alignment.
He is also a writer and a creator who loves to paint, design and build.
But Jonathan is much more than that. He is a lighthouse who not only is highly capable of waking people up, but also an inspiration to help people start their own positive revolutions.
In 2013, his site was named one of the top 100 sites for entrepreneurs by Forbes and he was chosen as one of the top 25 entrepreneurs to follow on Twitter.
And I'm sure that these accolades were possible because of his heart more than anything. He draws inspiration from love, family, nature and his meditation practice.
What his best talent is: I love how Jonathan listens. He listens in a way that makes the talker really listen to herself/himself. His conversations on the Good Life Project are de-li-cious like the type of conversations we wish we could have with everyone special to us.
His conversations with others allow the stories of people who faced adversity, but then succeeded to shine through. And I deeply appreciate his genuine interest in interviewing both men and women. As a matter of fact, I love it when he interviews women, because his sensible nature is palpable.
Jonathan has a calming presence that seems to make the seconds on the clock tick-tock at the right speed… not at the supersonic speed that they tick for many people.
A yoga-like "Aaaaaaaaaah" is what I feel like saying when I watch, hear or read Jonathan. He calibrates focus, important topics, pace, and intention brilliantly. And he does so with laser-precision and with a gentle touch.
What I love most about him: If you have seen my Pinterest boards, you'll see that I have a board called Love and Treasure These Smiles which is dedicated to the smiles I love. There are many beautiful smiles in the world, however, when I was thinking of who to include on there…. Jonathan, was the first person that came to mind (why? because he was the inspiration behind me creating that board). What I love best about his smile is the fact that his eyes crinkle when he does… which according to body language studies, is a critical sign of a genuine smile. In other words, he smiles from the heart.
I love how Jonathan is super proud of being an introvert. It takes a special introvert to own it like he does. He's concise, but very powerful in wisdom, in presence and in soulful connection. He's poignant in a way that very few people can successfully be.
Jonathan is the type of wise friend who would make life soooo much more meaningful. Like the type of person who you know that when they talk they have something important to say. It's a delight to have someone like that to learn from… because they really do attract the coolest people.
Although I could go on sharing what I love about Jonathan, I love that he is so gracious. Every time I've written to him, he responds with kindness, gratitude, friendliness and to top it off, he includes a 🙂 smile. He is for sure one of the Most Loving People our planet is graced to have onboard who is truly rocking it in all areas of his life.
If you want to hear his TED talk, here it is:
Now It's Your Turn
So now that you heard how absolutely amazing I feel these three people are, it's your turn to let me know what you think of them.
Had you ever heard of these 3 The Most Loving Award Recipients?
If you had, what do you like the most about them?
If you hadn't heard about them, go to their YouTube channel (or watch one of the ones above), choose 1 video to watch, then pinky-promise that when you're done watching (if you can actually stop watching) you'll come back and let me know what your first impression of them was, what you liked about them, or what you learned from them just through that one video.
I GREATLY look forward to reading your comments below.
The Most Loving People Of Our Time Series
If you liked this post, please note that this is part of The  Most Loving People Of Our Time series and that you can continue engaging with some awesome content these people are putting out into the world by visiting the posts below:
The Magical Recipients of The Most Loving People Of Our Time Award #7-9