Do you remember how slowly one year seemed go by when YOU were a kid?
You savored every season. You were barely done celebrating one holiday when you wanted to celebrate the other.
And it wasn't just those holidays that had a long vacation attached to them that you enjoyed. You enjoyed pretty much all of them, because they gave you the opportunity to celebrate in community.
Holidays At Home
One of the best things about teaching your children at home is that you help your kids foster a love for learning, and a love for holiday celebrations.
Introducing holidays to your kids for the first time is even more special because they'll always remember (knock on wood) when you introduced them to this holiday. But even if they don't remember everything you taught them, when they go to traditional school, they will already have a notion about what that holiday is.
Celebrating St. Patrick's Day For The First Time
Such was the case last week when we learned about St. Patrick's Day using the Mother Goose Time Curriculum.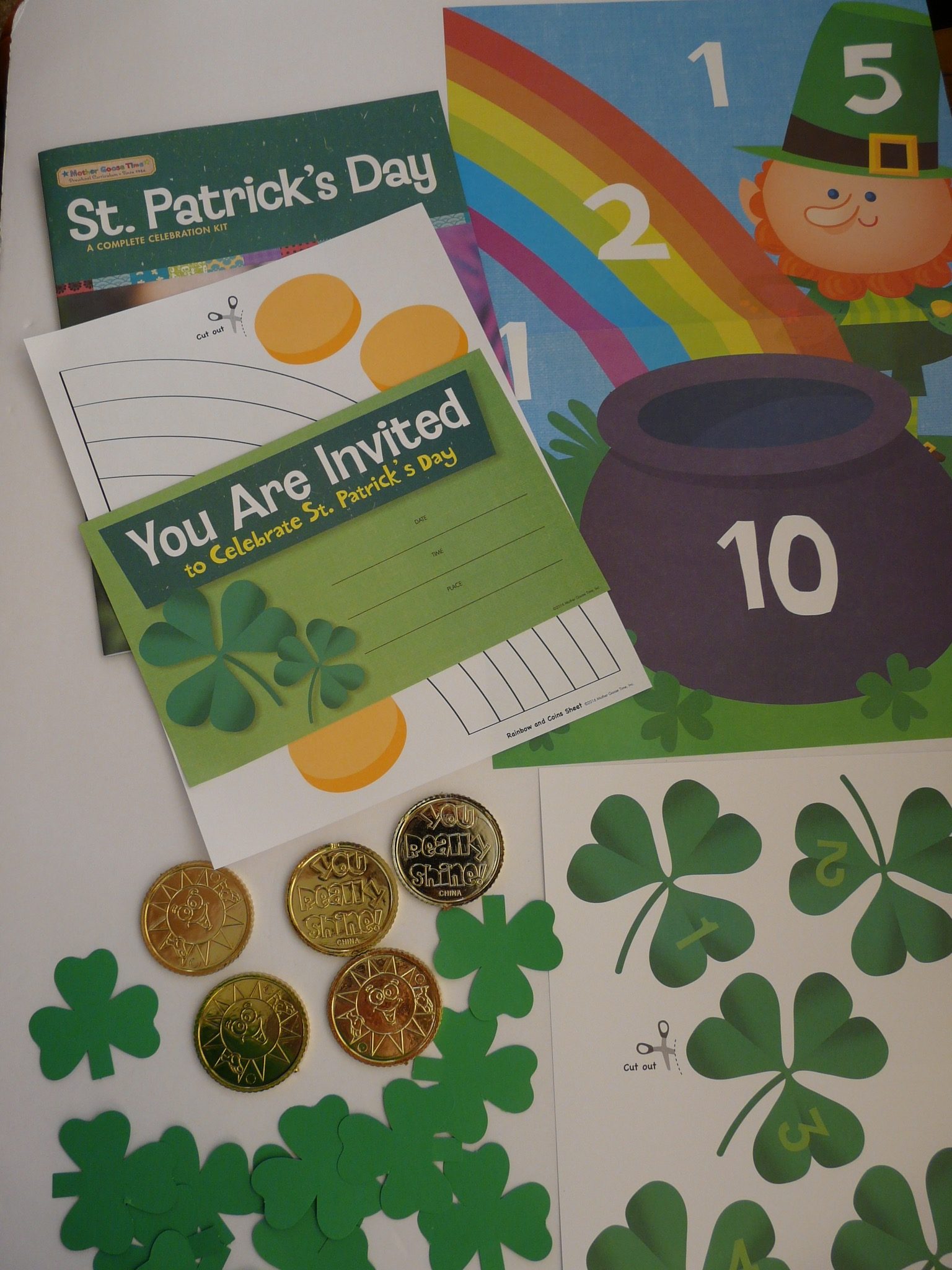 What's neat about Mother Goose Time, is that if you order a curriculum kit for a month that has a holiday, they send you "A Complete Celebration Kit" that includes:
invitation postcards
materials for the activities (that teach art, math, number concepts, sorting, colors, music, early writing, listening comprehension health and safety, physical activity, physical eye-hand coordination, gross motor skills and fine motor skills)
instructions for these activities and
a healthy recipe
a celebration checklist
and even a sign-in sheet
I received the Mother Goose Curriculum Kit for free in exchange for sharing my honest experience with it.
Our St. Patricks Day Celebration
A few days before March 17th, I invited the kids with a certificate to this St. Patrick's Day celebration.
On St. Patrick's Day itself, we wore green and we took some pictures to remember this day and to add these memories to our Project Life scrapbook.
Circle Time 
For Circle Time, the kids had fun finding one of the five shamrocks that I had hid one by one as we learned the shamrock rhyme.
Since the kids needed to find the right shamrock that was the right number, they were able to practice their number identification skills, matching skills, listening skills and sequencing skills.
I adjusted this activity a little to encourage the kids to make sure that the shamrocks were in sequential order from smallest to biggest.
Singing
We then sung, danced and cheered the St. Patrick's Day song to the tune of "The Farmer in the Dell."
Talking About Treasures
One of my favorite activities as a mom that day was the activity called My Treasure in which kids:
colored a rainbow (always love teaching kids the color of the rainbow)
cut the rainbow
cut the yellow coins
drew a pot on a black rectangular piece of paper
cut that small amount of construction paper to make the pot
discussed what treasuring things and people means
and my favorite part, shared what they treasured with me so that we could include that on the coins
glued the coins onto the rainbow
glued the rainbow onto the pot
These pots turned out precious!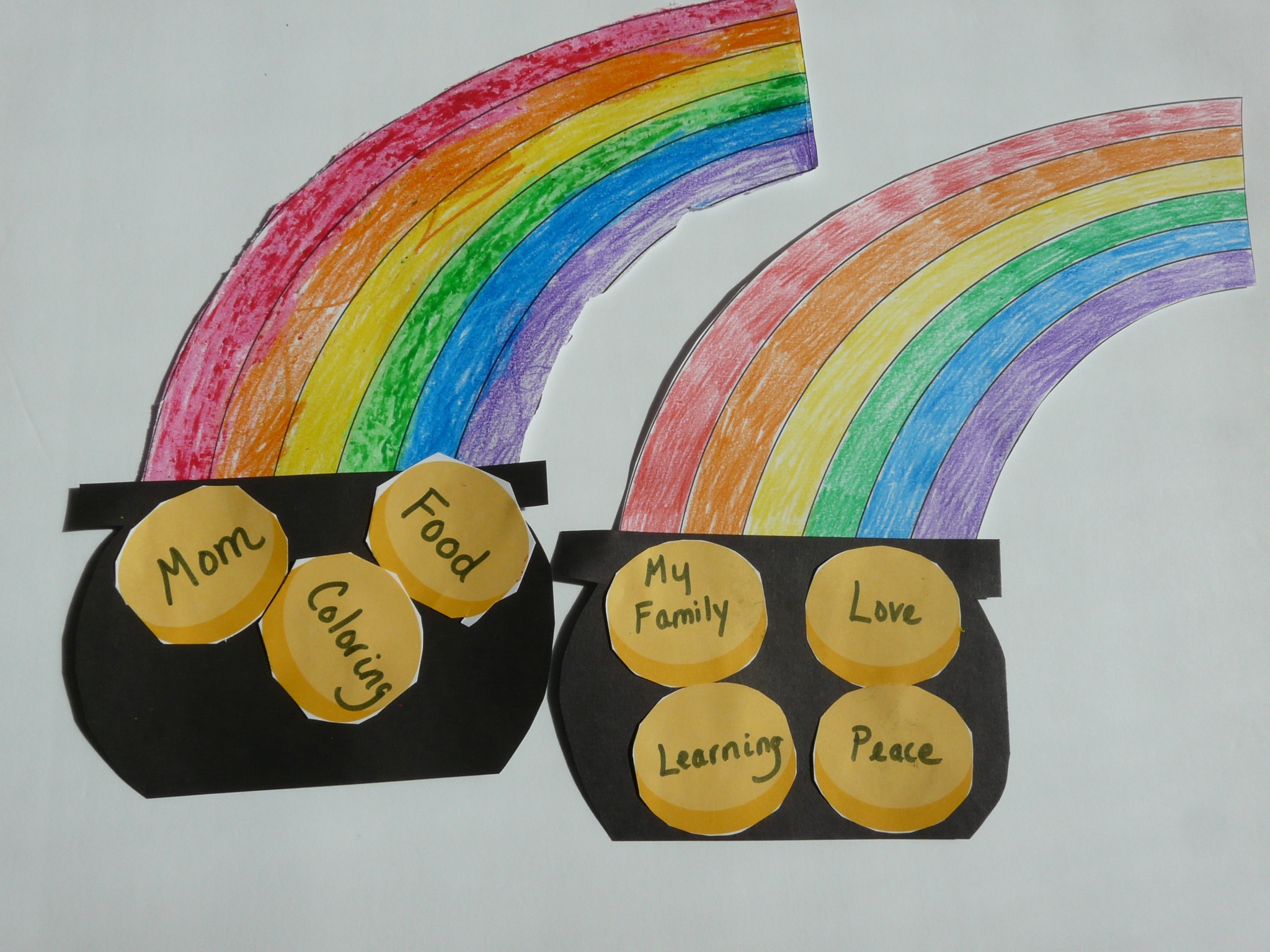 They provided a literary opportunity to share with them the myth or make-believe belief that some people hold that there's a pot of gold at the end of the rainbow. To me, rainbows are beautiful, and adding that myth to them makes them even more special, more dreamy.
What I especially liked about this treasure pot activity was to see what each person valued. Kids start identifying their values early. And it's so comforting to see that many of them have meaningful values are meaningful. It was so cute when my son said that he treasured giving caresses. Is that cute or what?! ? It melted my heart.
Golden Coin Toss Math
The kids' favorite activity was the Gold Coin Toss Math game.
Basically, we took turns throwing the gold coins onto a poster with a leprechaun standing next to a pot of gold at the end of the rainbow.
Each person had the opportunity to toss 5 coins onto the poster to try to score the greatest amount of points.
If the coin that the player tossed landed on the sky, the player got 1 point.
If the coin they tossed landed on the rainbow the player got 2 points.
If they coin they tossed landed on the leprechaun, they got 5 points.
If the coin they tossed landed on the pot of gold, they got 10 points.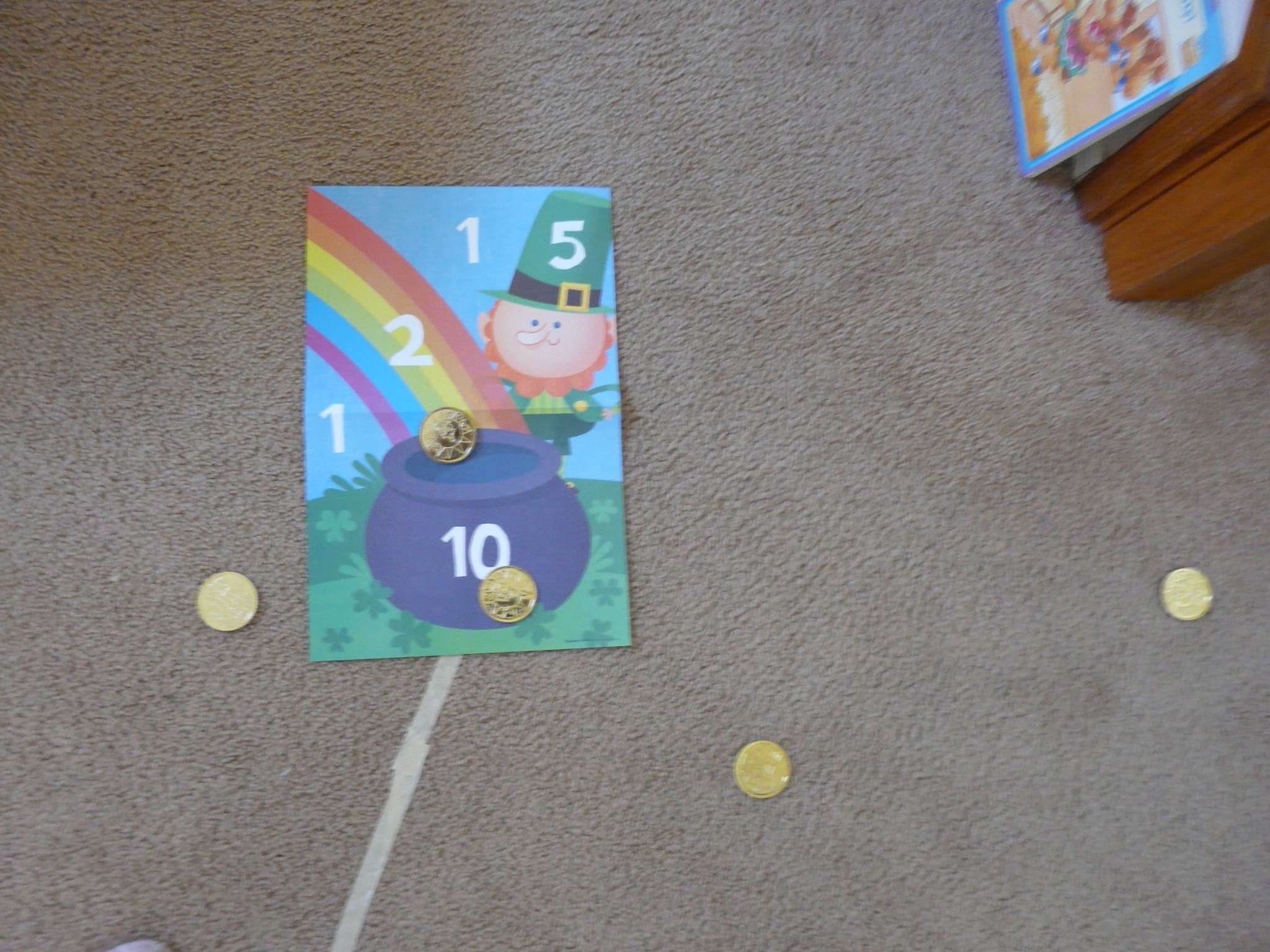 Aside from having fun as they tried to land the 5 coins on the items with the greatest value, this was an ideal opportunity that encouraged addition.
They also were able to identify "less than" and "greater than" skills as they compared the scores.
This helped foster their number sense, hand-eye coordination. and gross motor skills.
Hot Potato
Who doesn't like a game of Hot Potato?
I don't think I have to explain how to play this game, but in case you've been living under a hot potato, I mean a rock, basically you sit the children in a circle. They pass the potato to one another fast, as they would if it were hot, and while you're not looking, you stop the music and the child who has the potato, is basically out. This continues until all kids have been caught with the hot potato in hand when the music stops. The child who is never caught, wins.
If you're like me, and want to participate too, from time to time, then you can use an iOS app called Hot Potato timer developed by Miner's Computer Services.
The two main reasons I like this app is because:
It's beneficial to model to kids how to hand over the potato. With you playing, it's less likely for the kids to get all crazy. ?
Plus, if you're going to monitor that the kids aren't two crazy and are passing the potato fairly, it helps that you don't have  your back toward them as you play.
Rainbow Sorting Stations
One of the activities that I think comes naturally, and at the same time, is soothing to our brain is sorting.
With this station activity, you can either paint paper plates red, orange, yellow, green, blue and clear or get plates that are already those colors to sort. If you're doubting that you have such bright colors in your kitchen, let me remind you that children's plates are usually that colorful. They don't necessarily have to be the brightest colors on the block, but as long as they're that color, they work.
Fill the clear container with rainbow-colored items.
Then encourage the kids to sort the items into the plate with the same color.
After that's done, talk about the sorting process and ask questions regarding which color had the most, least, largest and smallest items.
Shamrock Search
In this station activity, the kids search for the shamrocks buried in a bin of rice.  You can have them search for them without a timer or with a timer.
To make it more challenging, you can also number the shamrocks and have the kids number them while also beating the timer.
You can use a traditional game or sand timer for this activity. or you can use the stopwatch on your clock. That way, it's easier for kids to see if they were able to beat their own score.
The simple act of using the tweezers to pull out the items makes the kids practice their pincer grasp.
Social Relationships and Interactions
One of the recurring themes from Mother Goose Time games, is that they're really conscious about how to keep a game fun instead of turning it into something truly competitive, where somebody ends up feeling hurt, embarrassed or excluded.
For example, in the Gold Coin Toss, the instructions for the game don't direct you to have students compare who between them got the greatest number of points. Instead, they encourage you to have students toss the coins again to try to beat their own score. I love this because this teaches students that they are their own competition.
The Gold Coin Toss game also gives you the option to have kids work in teams to compete with another team. Although this is more direct competition, it also encourages the little ones to work with others for a common cause. And while nobody necessarily loves losing in life, it's better to lose to a usually better to lose with others than all alone.
In the Hot Potato game, when the kids would traditionally would be "out," the directions from Mother Goose Time indicate that the child holding the potato when the music stops, should do a jig and step out of the circle to watch the rest of the kids play. Think about that! If you're gonna go out, it's better to go out dancing. 🙂
The Extras
In order to supplement what we had learned that day, we watched a little clip of Ellen DeGenerous dressed up as a leprechaun and playing Heads Up while kneeling down. It was quite funny. (in case you're wondering, nope, I don't have cable, and watch very little TV…. and the same applies for my little ones).
For bedtime that night, one of the books that we read was St. Patrick's Day by Molly Aloian from an Apple app called Epic, that is like a virtual library. The book selection could be a little better, in my opinion, but for that evening, it provided even more context.
And the weekend after St. Patrick's Day, we played some additional St. Patrick's Day games, and while we were out, we spotted some clovers.
As you can see, celebrating holidays becomes a way to create fun memories. You and your family would have fun, too.
Now It's Your Turn
How do you celebrate St. Patrick's Day?
What activities, that you've done over the years, have your kids enjoyed the most?