Disclosure: The following are affiliate links which means that by you buying through me, I get a small commission. Thank you for helping support my family and I.
Have you ever come across a product you know is great just by looking at it?
Sometimes, it's because the product is cool.
Other times, because it's beautiful.
Yet some other times, it's because the product gives you good vibes or it clicks with you.
Well, such is the case with Leonie Dawson's 2016 Create Your Shining Year in Life and Biz workbooks, which she creates for the world yearly.
Before I tell you all about the Create Your Shining Year in Life workbooks (I'll be talking about the Biz version in the next post), let me give you a little bit of background on them.
They are workbooks that have changed the lives, business and dream-acquiring potential of more than 120,000 women for 7 years now. The idea to create these New Years resolution workbooks came to Leonie when she was pregnant in 2009. And what an idea it was because they have been best-sellers and game-changers every year.
The Stats
The choice is yours. It comes down to how you like to think, reflect and plan.
If you prefer a digital calendar, then perhaps you would like the digital version. If you prefer a paper calendar, you can buy the print or the digital (since you can convert it to print).
Benefits of buying the digital version of the Create Your Shining Year Workbook: 
You can keep your notes digitally on your computer or with an app like Noteshelf (love this app!) or the Goodreader app that will work on iPhones (even older ones).
OR you can print out the workbook.
The best part is that you'll be able to use them right away.
Since I'll be using My Happy Planner that I raved about in my 2015 Love and Treasure Holiday Gift Guide (along with these planners), I have decided that that's where I'll store my 2016 Create a Shining Year in Life and Biz pages as well.

It will reduce the amount of space I have to write in (in comparison to printing it out on regular sheets of paper) but I like the idea of having it all together and easily accessible throughout the year for my monthly reviews and for easy scheduling.
Benefits of buying the print versions of the Create Your Shining Year workbook:
You'll save time, money and effort in printing the books
But you will have to wait for them to arrive
You'll get a quality product printed on quality paper
It might be less expensive than printing your own copy at your local print shop (check out the prices in your local print shops prior to purchasing so that you can ensure you're making the right choice for yourself).
Who Is Leonie Dawson?
Leonie is an amazing spirit! I could leave it at that but she's so much more. She's a best-selling author, a mega-successful entrepreneur, a philanthopist, a coach, an WOWZER artist and a loving mother. She's an introvert that has still been able to rock it in the world. You can learn more about her by visiting Leonie Dawson's website.
If you want to try a couple of her products for free, check out the freebies on her site and take your pick.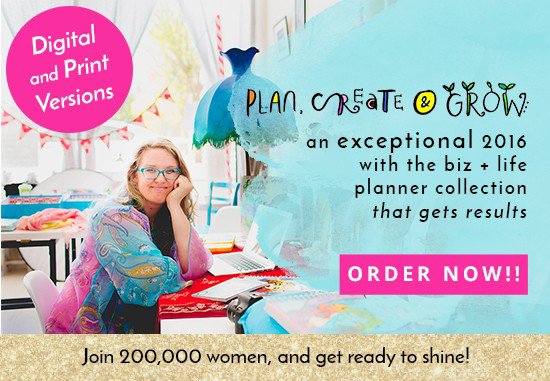 At first glance, like always, the cover is very pretty. (So pretty in fact that every time I look at it or see Leonie's artwork, I crave to have some artistic talent… but my expertise in drawing can be summed up in stick figures. Really!).
There's a spot in one of the first few pages that allows you to add your contact details in case you lose this treasure of a workbook.
A portion of the profits is used for philanthropy. YAY! You win, the world wins and Leonie wins.
It has a section devoted to reflecting on the year that we're leaving behind (2015) before starting to plan for the year that lies ahead (2016).

If you have a 2015 planer from last year, this task will be easier.
This is crucial for gaining peace and clarity.
That way, you plan for the year ahead from the right frame of mind.

There are AMAZING sections devoted to your:

Spiritual goals (with resources),
Learning goals
Relationship goals: which covers love and friendship and Leonie shares her resources These is definitely one of my favorite sections… but that's obvious, right?
Family goals (I love this section, as well). It includes resources.
House goals with a focus on what areas you need to declutter or decorate. I've been doing the Konmari / Marie Kondo method, so it's perfect!
Financial goals (with money resources)
Community goals: which for many of us, is VERY closely tied to our mission and the changes we want to see in the world. (Includes resources).
Self-care goals: with a focus on how you currently spend your time and how you'd like to spend your time.

I especially like the part about:

creating rituals
giving yourself permission to do certain things
your mottos
10 things you want to celebrate about yourself
the love portrait that reminds you about the love and support you've received which will come in handy when the going gets tough
how you'd like to celebrate your birthday (a touchy subject for me, but this question is presented in a wonderful light)
establishing your own habits and
practicing zen habits

What you can turn to when you're running low on energy or inspiration
Shining dreams including the famous 100 things to to in 2016 (which is not your to do list but the things you actually LOOK FORWARD TO doing).
Your word of the year: Love this! So simple, yet so powerful because it's a framework and a constant reminder of where your focus should be.
Create a dreamboard for 2016 (I personally have and prefer my wish box. Learn about it here.
The list of things to do when everything sucks ( I wish I never needed this list, but I too can tell when things are a bit sucky).
A page to write your favorite affirmations (positive words can allow us to break free of the negativity if only momentarily).
Create an everyday miracles jar to help you remember the joyous occasions and blessings you receive throughout 2016 (how fun!) Create this jar as soon as possible so you can start adding to it as soon as the year starts. I would add the date on the back of the slips to remember when the blessing happened and then maybe add it to your gratitude journal or calendar for memorykeeping. OR you can create a list to include as part of your Project Life photo albums.

And if all of this weren't enough, there's a special bonus this year. Your purchase comes with a free mini e-course! Isn't that neat?!
What Other Things Do These Workbooks Include?
Aside from what I've mentioned above, the workbooks also include a spot for:
Your creative goals (with resources)
Your career goals (with resources)
Resources/People/Books/Workshops you'd like to learn more from
Your body goals
Travel goals
Analyzing the support you have or would like to have
An Oracle Reading
Notes/ Brainstorming/ Doodling Pages (there's plenty of them both with and without lines AND graph paper). Pretty cool! 
It works based on your particular needs. You're free to fill out as little or as much as you want. The most important things to keep in mind are that you:
a) write down your goals
b) break down your goals and make sure that they're actionable.
c) schedule your goals in your calendar
d) revisit your goals to ensure that you're on track.
People who like color
People who don't mind color (yet, please know that even though IT IS colorful, it's not distracting).
People who need a spot to reflect a bit on their prior year in order to gain important insights on how to make their immediate future better
People who are go-getters and strive to reach their creative goals systematically
Who Is This Workbook Not For?
If you are a very linear person who prefers charts, diagrams, T-charts, pros/cons lists, and are very structured in your thinking, it might be a bit of a stretch for you to embrace these workbooks.
If you're against all things that vaguely seem woo-woo.
If you don't like Leonie's style, because this workbook is very much Leonie (which is a good thing, in my opinion).
If you're not committed to doing the work required to improve your life, then these workbooks are not for you
So Is This Create Your Shining Year in Life Workbook Worth It?
As long as you realize that what you'll get out of your year depends on how much heart, soul, work and effort you put into it, then yes, this workbook is worth it.
You know what else is worth it? You. Your goals and your dreams. So whether or not you buy this workbook or not, make yourself a priority and take care of your needs and your wishes.
Where Can You Get Yours?
You can get the digital copy and print copies here. You can decide whether you prefer a bundle or not.
While you're visiting her site, I highly recommend that you check out her Shining Biz and Life Academy because you wanna know something? If you buy this planner or any of the other products on the planner page Leonie will be giving you a discount to her Academy. Pretty neat!
Stay tuned, I'll be sharing with you about the 2016 Create Your Shining Year in Biz edition in the upcoming post.
In case you're interested in getting a head start on that decision, you can read the review I did for last year's 2015 Create Your Shining Year in Life and Biz workbooks. But if a nutshell, if you have a career/business or both, it's in your best interest to get both versions. But at the very least, get the life version, because improving our life is something that we all need.
Now It's Your Turn
Have you used Leonie's workbooks before?

What do you like about them?

If you haven't used them, what about them has you the most excited to finally get started on them?
Share with me in the comments below.