What should you do in case of an evacuation? The short answer is to get your family out of that area as soon as possible. But it's easier said than done, isn't it?
I know it's tempting to say that because you have a lot of faith or hope that the situation is going to get better, that you would prefer to stay and not leave. Everybody would like to stay in their home sweet home. Having hope, in this case, is often just an excuse to not leave.
It's VERY tempting to be in denial and think that nothing will happen to your home, BUT when it comes to keeping your family safe, it's best to evacuate when the authorities tell you to evacuate than to be sorry later. Being sorry in this case can be devastating. Being sorry can mean being sorry forever.
So regardless of how much you like your home, how much of a homebody you are, how shy you are or introverted you are— when you have to go, you have to go.
YOUR life, your family's life is MUCH more important than your home. Your four walls are replaceable. Your children aren't.
In my last post How To Avoid a Fire and Prepare Your Family In Case Of A Fire , I shared the importance of preventing a fire, preparing in case a fire does occur and having a plan for how to exit. Feel free to read that blog post after you read this one given that it's another circumstance for which you should be prepared to keep those you love and treasure safe.
Today, I want us to talk about evacuations and how to better prepare for one.
I will be sharing some resource links to help you prepare for an evacuation. The product links that you'll find here are links that will take you to Amazon, where you can learn more about and purchase the products I share. As an Amazon Associate, I earn from qualifying purchases. It doesn't cost you anything extra, but if you use my links, you will help support this blog.
Double Check Insurance
Before we get into the specifics of how to plan for an evacuation, I need you to PLEASE double-check your home insurance coverage.
You know the premise of insurances, right? To make as much money and lose the LEAST amount of money when you file your claims.
I'm not saying this to bash them, I'm saying this because THIS has been my experience on the ONLY claim that I filed in more than a decade when not only did I get $0.00 but when most importantly, I realized that denying claims was their tactic.
If you have ever been asked to use a specific app to upload photos to your home insurance as part of your claim filing process, you may have noticed that the software you used is designed and marketed as being a tool for INSURANCE COMPANIES to lose the LEAST amount of money. The software says that specifically. Insurance companies are saying the quiet part out loud.
And in a way, I get it, they're a business after all, and they want to make money.  BUT don't you think that by the time you ask for a claim, you've paid more than paid for the amount that you're asking for?
In my case, I think I have. As a matter of fact, I just ran the numbers and the amount that they could have provided me with is less than the amount that I paid them in my first two years (and which I'm sure they invested in stocks to earn quite a lot of money from).
The reason I'm sharing this with you is because until you file a claim, you THINK that insurance companies will honor their end of the bargain. But they either don't honor it at all (like in my case) or they don't do so easily without giving you the runaround and a whole bunch of headaches.
Insurance companies should know that NONE of us WANT to file a claim. But if we do, it's because we need to. When something is wrong in our home. Or when multiple things are wrong in our home. And the LEAST insurance companies can do is not give us a harder time.
Since while not giving you claim money is the name of the game…. they make it REALLY hard to "grant" a claim— like if they were our fairy godmother or something— and they gave us the "privilege" of letting us use the money that we've been paying them for YEARS.
So the amount was substantial enough that it took us 2 years to pay it— but we've been with the same home insurance for more than a decade— so why didn't they pay it it's the first home claim I've ever submitted?
One answer is that home insurance companies play the Goldilocks game. They don't want to pay if your claim is too low, but they also don't want to pay if it's too high. For them, it needs to be "juuuuuuust" right.  🙄
One IMPORTANT thing you need to do when it comes to your insurance is to make sure you have what you need.
Don't assume that home insurance will cover everything, because unfortunately, it won't.
You need to take a look at whether it includes fire coverage AND flood insurance coverage. Today I'll focus on flood insurance coverage.
Flood Insurance
Did you know that the STANDARD home insurance policy that people buy DOESN'T include flood insurance?
To me, that's like buying a veggie burger and not getting the veggie patty. What in the world? 😳 If they KNOW flood is something that COULD damage your home why don't they include it?
Wait. It gets better.
Did you know that flood is the MOST common natural disaster?
Yep. It doesn't matter if you live on the coast. Next to a gulf. In the desert. In the Savannah. In the plains. North, South, East or West. YOUR home has a VERY high probability of being flooded. And at the rate we're NOT addressing climate change… that probability is only increasing for ALL of us.
But wait, there's more:
Flood insurance repairs are the most costly. 
Here's an article that talks about flood insurance.
So imagine that scenario.
Imagine that all this time that you've been paying your home insurance, you've been assuming that flood insurance is part of it. Along comes a flood, it goes splash on your home, you file a claim… and oh Lordy!  Your home insurance says, "Sorry, we don't cover it." and it turns out that you're left holding THE most expensive home repair bill possible as a result of a natural disaster.
Don't be that person.
Don't let them fool you like that. You DON'T deserve it.
Who Should You Buy Your Flood Insurance From?
Thankfully, flood insurance is regulated by the government. The National Flood Insurance Program (NFIP) provides most flood insurance policies. You could buy it from a private insurer as well— but when it comes to home insurance— odds are that you'll most likely be screwed if you go with a private insurer. Disclaimer: I'm not an insurer (thank Heavens)… so do your own research.
What I can tell you is that you have a choice when it comes to whom you buy flood insurance from. You can get it from your current home insurance company… but if they've been treating you the way they've been treating me— well…  it turns out you can buy home insurance from anywhere else. So do that, if you want. It's hard to trust an insurance company in the same way that it's hard to trust a mechanic. So I want to help you find a reputable agent for your home, auto, flood insurance (and even earthquake insurance needs (that guess what? It's not always included in insurance companies). I'm not endorsing the labeler of these or his daughter— but I found the best agent I've had so far thanks to this link. I want to share the link with you so you can find a reputable agent near you. One of my favorite things is that you can just order insurance via email. You don't have to go to any office. My other favorite thing is that they are so reputable, that often you'll be able to get MORE coverage (from any insurance you buy with them) for LESS money. The reason they can do this is because they have the ability to shop around and see all the coverage you can get and offer you the best deal. So if you want, give them a try. 
Buy Your Flood Insurance ASAP
If you get any lesson from this blog it's that you need to buy flood insurance. If you have to evacuate your home, you want to have a home to come back to. And if it happens to be damaged by a flood you want your insurance to fix it ASAP. Pronto!
So regardless of whether you buy your flood insurance from your same old, same old home insurance company or not, the point is to make this next purchase one of your priorities.
Why Should You Buy It So Fast?
#1 Well, now that you know that this insurance is probably not included in your home policy, you can't unsee this. And if something were to happen to your home, you wouldn't forgive yourself for not taking action.
#2 It takes 30 days for this insurance to kick in after you buy it. So buy it soon. You don't want your house to be flooded on day 29.
What If You Already Have Flood Insurance?
If you already have the necessary insurance policies, I highly recommend that you contact your agent or a reputable agent that you can find here and ask them to give you a free quote on your home, insurance, car insurance or any other types of insurance you want.  Odss are SUPER high that they'll be able to get you MORE and BETTER coverage for LESS money.
And almost nobody knows this, but if you've seen your credit score increase in the last couple of months or since you first got your insurance or updated your insurance coverage, you qualify for more savings. Be sure to ask them to give you a free quote using your credit score increase you got since then.
Give Yourself The Potential Of A Better Experience
As we have been talking about, NOBODY wants to leave their home because of an evacuation.
But if you wanted to, you could be prepared even more than most people are without anxiously gathering their things together at the very last minute and therefore taking MUCH longer to leave a dangerous situation.
Have Your Bag Ready
One of the ways you could give yourself a better experience is by having a pre-made bag, or at the very least, a LIST of what you would take.
Here's a list of things you could include in your evacuation bag or fire emergency bag:
Underwear

Undershirt for boys/men or girls

Socks

Pajamas

Toothpaste

Toothbrush

Brush

Makeup Remover

Cotton Swabs

Deodorant

Razor

Shampoo

Body Wash

feminine products

Baby supplies like diapers and clothes (make sure they're the right size)

Hearing aid batteries, contact lenses, old glasses and/or old working hearing aids or hearing amplifiers (in case you use these and forget to get your main ones)

Medication (which you hopefully don't need), but you can also take vitamins and Tylenol.

Comfy shoes (check that they fit— especially on children whose feet grow so fast)

Shorts (in case this evacuation happens when the weather is warm)

Short-sleeve shirt

Pants

Long sleeve shirt

Light jacket/hoodie (optional) (in case this happens when the weather is cool or cold)

A thing that will help you keep the faith. A prayer. A poem. A symbol. A tape. A CD. An old mp3 player with its charger. A note.

dog leash, dog bowl, dog carrier. Hopefully, they have the leash and collar on.
You can print out this list or save it in your Packing Pro app.
Most importantly, remember that this bag doesn't necessarily have to symbolize something negative. You can use this bag and replenish it if you want to take a surprise getaway trip.
Save For These Things
Taking the things above would make you feel less awful and anxious than if you left with just the shirt on your back from your house. So hopefully, you have the bag ready for every member of your family so it's just a grab-and-go situation.
However, if you want to take it up a notch, and make an unfortunate experience like an evacuation feel less awful than it is, I want to share 4 other things that you could potentially save for and the last one that would be a nice-to-have.
If you are outdoorsy or have the money to spare, you could buy a camper van.
What's wonderful about these things is that you would be able to use them in circumstances OTHER than an evacuation.
For example, you could use all of these on a road trip or while camping. But during an evacuation, they would feel like a Godsent.
You would benefit from the car charger any time you're on the road with your family or traveling toward the love of your life. And the Yeti ice chest would be beneficial when you take a day trip or have a picnic.
Let's explore these more so that you better understand WHY I'm recommending them to you.
One of the last things that you and I would want during an evacuation would be to have a dead battery.
Yeah, perhaps more traffic would be on the road that your car battery dies on, but that doesn't mean that more strangers would want to help a stranger during this stressful time.
One of the things that has given me the most peace of mind is having a car charger which I chose based on the car which I mostly bought it for.
So it's best if you look on Amazon to see which one of these jumps starters best goes with your car. Here's where you can find the water-resistant car jump starters . 
Once you get it, make sure that you learn how to use it.
Some of these come with flashlights, which will also be handy during an evacuation.
One of THE best purchases I've made is buying the Crown Berkey Water Filter. I LOVE this thing! That's where I get ALL of my drinking water from. I like room temperature water— over the water from my fridge. But you're welcome to add ice to this filtered water if you want.
I've been using water filters since I was in college. I've used the pitcher water filters, then the filters attached onto the faucet and I've also had filters next to the faucet. But my favorite water filter has by far been this Crown Berkey Water Filter.
I've always loved drinking water 💦 but this filter takes water up a notch. It's the cleanest and most delicious water I've ever had.
Plus:
It's refillable.

It holds weeks' worth of water

When you have parties, people can just serve themselves some water.

When it's empty, it's really light

It's not attached to a water source so you can take it with you. Whether it's to your backyard, a park, a camping trip or an evacuation.

There are various sizes to choose from. I have the biggest one there is. It's up to you which one you buy.
You can get the biggest size— and refill it less. I have this Crown Berkey because it can hold 6 1/2 gallons. 
Or you can get the smallest size— which happens to be the Travel Size Berkey.

This one can purify 1.5 gallons.
There are other sizes you can choose from on either Amazon or the Berkey website. 
In an evacuation, you could take your water filter so that you don't have to lug many gallons of water (which is not necessarily the purest water you imagine it is). The water from this filter tastes SO much better. Yes, I know it's more expensive than every other filter I've ever owned. But it's worth every penny. It's my favorite filter yet.
Any cooler can keep food cool for a while. But in an evacuation situation, it would be nice to have a cooler that cooperates and isn't in constant need of ice, like the Yeti Cooler.
A high-quality ice chest like a Yeti would be perfect if you're breastfeeding 🤱 and have frozen milk that you want to take with you (cuz many ladies know that it's literally liquid gold). At the very least, it could hold your almond milk, ham and cheese for sandwiches on the road.
It can keep ice frozen from one day to the next. Part of the reason is that its walls are 2 inches thick.
It's not about being picky about your cooler BUT, on Amazon this cooler has 4.8 stars and 96% of people give it a 4 or a 5-star rating. And even at its steep price— of the time of writing this post, it was sold out on Amazon but will be in stock soon. It's THAT good.
And this is the type of cooler that you can pass on from generation to generation because it's virtually indestructible. And not only that—- the hinges won't break.
If you want the more recent version, you can get the Yeti Tundra 45 cooler.


There's even a more convenient version with Yeti Tundra Haul Portable Wheeled Cooler.
Do you ever worry about what you would do if you had to live a week without electricity? I do. And odds are, you do too. For those of us who aren't lucky enough (or smart or prepared) to have installed solar lights in our home… it's a scary thought to be without electricity. Not because we're afraid of the dark— but because we have a whole bunch of electric things that we depend on each day.
Thankfully there are portable charging stations that you can own. These chargers are an investment. But in a time when technology is so useful and when the possibility of another country shutting down our power grid because of a ransom or political reasons is greater than it's ever been, having a charging station like this would be VERY convenient.
A charger like this would also be beneficial in a typical blackout that lasts for a few minutes (hopefully), hours, or if you're in a state like Texas, days or close to a week.
Guess what? You can connect some portable charging stations like this one to solar panels (they're sold separately). I had wished a product like this existed and it does.
Jackery has different price ranges for their charging stations. Some are in the hundred- dollar range. Others are in the couple hundreds, and there are even some in the thousand- dollar range.
You can pick whatever one works for you.
You can buy the Jackery Portable Charging Station Explorer 240 with 200 watts. This is ideal to charge things up on road trips.
You can buy the Jackery Portable Station Explorer 300 with 300 watts.
You can also buy the Jackery Portable Station Explorer 1000 with 1000 watts. This one is obviously the most expensive BUT guess what you can do with it? Keep your full-sized refrigerator running. Isn't that AMAZING?! Plus, you can take this battery on an RV (if you have one) or if you're interested in van camping.
All of these charging stations would come in handy in different circumstances, and I KNOW that paying thousands of dollars for one of these sounds super expensive. However, thing about 2 things.
1) Think of what they can help you SAVE. For example, if you have hundreds of dollars worth of food in the fridge, maybe something like this is worth it.
2) This may be something that you're on the lookout as a Black Friday, Cyber Monday or even a Prime Day Special. I realize that there are much more sexy things to buy than a portable charging station, BUT when life gets tough— these chargers are the kind of thing that can make a bad situation more bearable.

For example… if you have to evacuate, these chargers will help you charge your gadgets AND your computer which you may be using to work from home or at least A computer you can try to work from regardless of where you end up with as a result of an evacuation.
And if hopefully you never have to evacuate, these will come in handy at home and on trips you take for pleasure.
One thing I want to help you have in mind is that if and when you buy solar panels for these portable charging stations, make sure that you buy compatible panels that are weather resistant that can stand being in the rain, snow, etc.
Camper Van
Look, I'm not saying that you should go out and build a camper van or buy one right now (although I THINK I prefer the tiny homes 😉, although I know that a camper van would probably be easier to maneuver in an evacuation). However, I want to remind you that during an evacuation, if you have a camper van you could take it. Or if you prefer to take one of your regular cars that's okay as well.
The important thing is that you and your family are safe when it comes to the natural disaster you're evacuating from and on the road for. If you decide to take the camper van, and you have kids or an elderly parent that you're taking care of, just make sure that you have a way for all of them to be buckled in. The road leading traffic away from your city or town will be more jammed than usual, so you want to make sure everybody's safe no matter how many times you step on the break.
Create Your Own Snack Backpack
If you're a parent or are prone to getting hangry, you KNOW that having a snack during a particularly stressful time is an awesome idea.
Here are some things you should consider taking with you:
Caveat: these are just suggestions. You're welcome to take what you know you and your family like. It's an evacuation, after all, so taking whatever's handy ASAP is what's most important. By the way, in case you're wondering, all of the snacks I mention are not only kid-approved, they're kid-loved! 😃
!Water or the water filter like the Berkey Water Filter I recommended above. You need a gallon per day per person.
Baby food if you have a baby.
Dog food (if you're taking your dog with you or pet food if you're taking some other pet)
Mamma Chia Organic Vitality Squeeze Pack

I know they look like a kid snack, and they can be. But they're a sophisticated adult snack, too. Try them.

Dried fruit

Surprisingly, the dried fruit from Walmart is good and doesn't have additives. It's rare to find dried fruit that's so pure. It's basically like you're eating the real fruit, except that in this case, it's dry.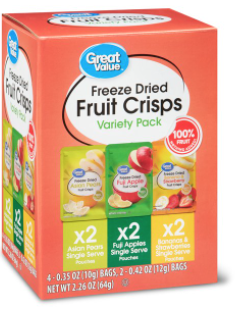 Off the Eaten Path

Speaking of fruits and veggies, if you haven't tried these snacks, you're in for a nice surprise. They're like healthy chips.
Enjoy Life Foods Soft Baked Chocolate Chip Cookies

They're healthy. Do I need to say any more?

Sahale Snacks Pomegranate Flavored Pistachios

Can you do me a favor? Buy these snack packs. If I had your address I would buy you some with a lot of love because they're THAT good. But since I don't have your address, please order them. You can thank me later. 😉 If royalty eats snacks, I think they would eat these.
I wish I had some of these right now. But I don't. That'll be your challenge. Having them around if there is an evacuation.
No Shell Nuts

The pistachios you ARE more likely to have around in case of an evacuation (because they're just shelled pistachios and not as good as the mix above) are these pistachios. The only downside is that only 9 packages come in a box.
I'm not a lemon dessert type of person, but the lemon Larabars are my favorite.
Kind Bars would be a good evacuation snack if it's fall or winter (or not too hot ) because if it IS too hot, they will melt and gooey chocolate fingers in the car is not that great regardless of whether you're a child or an adult.
Canned fruit or fruit in syrup— preferable cans that you can open just by pulling the tab. They would be easier. But if canned fruits are all you have that's fine.
Manual can opener in case you grab some canned fruit, veggies or tuna on your way out.
The Life-Saving Importance of Savings
Have you heard of an emergency fund?
Have at least one thousand dollars or more for strict emergencies in a high yield saving account like ally.com . It's my favorite bank. Plus, you're able to withdraw money from any ATM, and they'll reimburse your fees. Kind of handy when you don't know what ATMs will be around you depending on where you land after evacuating, right?
That way, you don't EVER have to choose disobeying evacuation orders just because you don't have enough money to stay at a hotel or gas money to go to a relative's house that lives far away from where you live.
That emergency fund can offer you peace of mind for other emergencies, too. For example, if an appliance breaks down, you need an urgent house repair or you need to evacuate that home, you're ready.
I don't need to tell you that if you end up using all or some of that money for a TRUE emergency that you should replenish it.
Carry Some Cash
In addition to having an emergency fund, have some cash in your wallet. You never know when your debit or credit card won't be useful enough. Plus, you don't want to have to go to the bank on your way out of your town or city.
Have Various Hotels or Other Accommodations Lined Up
If you had to evacuate, would you know where to go?
Many of us can randomly say, "Oh, I'd go to a hotel." Or "Oh, I'd go to a relative's or friend's house." The problem is you haven't specified which hotel, which family member or which friend either to me or most importantly to yourself.
And THAT'S something that you should decide before you're in the middle of an evacuation.
Have 3 hotels you would stay at that are about 45 minutes from where you live and 3 other hotels that you would stay at that are one hour away from your home.
Why should you choose so many hotels? Because in an evacuation, it's not just you and your family that will want accommodations. It's likely that your first choice hotel will be filled. So you need to go to your 2nd pick, 3rd pick, etc.
Another reason why you should have those hotels in mind is because odds are, that you've NEVER stayed at a hotel that's 45 minutes away…. so when push came to shove, you would have NO idea where to stay. Yeah, you may have seen a hotel next to a highway and next to a fast-food restaurant, but you really know nothing about that hotel.
Once you do some research by focusing on Google Reviews while watching This is Us, A Million Little Pieces, AGT or Game of Thrones (if that's your jam), create a list of those 6 hotels. You can save their names, addresses and phone numbers on your phone. If you have a car GPS you can also add the addresses there and title them something Like
(Name of hotel) Evacuation  Hotel #1
(Name of hotel) Evacuation  Hotel #2
(Name of hotel) Evacuation  Hotel # 3
(Name of hotel) Evacuation  Hotel # 4
(Name of hotel) Evacuation  Hotel # 5
(Name of hotel) Evacuation  Hotel # 6
That way, when you're driving, your copilot can just look up the word "evacuation" on your GPS (so that you can keep your precious eyes on the road) and they can see your prioritized list of hotels.
Have at least two friends or family members that you would go to because there is a possibility of an unfortunate coincidence that maybe the top person or people you want to stay with are on vacation or at least not home when you need them most.
If the family or friends that you would go to if there was a flood in your neighborhood
recently moved, ask them for their new address ASAP so that you're not unfamiliar with where they live in the middle of an evacuation.
Important Habits To Have In Place To Make An Evacuation Smoother
In order to reduce the stress that comes with an evacuation, here are some other things to consider:
Keep Your Gas Tank Filled
I don't know if you're this way, but personally, I don't like when my car's gas tank gets below 1/2 a tank.
When I see my gas tank approaching the halfway mark, that's my signal to have my gas tank filled.  Personally, I like to have my tank full or 3/4 full.
Having 1/4 of a gas tank or less makes me feel very worried because there are many things that I WOULDN'T be able to do such as:
take a trip to the largest city near me without having to stop for gas

stand in an hours-long car line

have to wait on a highway if there's a detour or an accident

etc..
While many would try to convince me that I could do most of those things, my point is that I would for sure not be able to do them comfortably.
I don't want the added pressure of having my gas tank run out AND be in one of those circumstances. And by the way, in case you're wondering, my fear is well-founded and rational. I have had my car's gas tank become completely empty and cause me to be stranded in the middle of one of the busiest streets in a big city and having to be pushed out of the street. Why did that happen? Because my cars' gasoline gauge was not working properly. Thankfully, helpful strangers pushed me out of the road and one of my guy friends came, helped me and brought gas so that I could get home and then take my car to the shop. But it's not that I've became traumatized about how much gas my car had since then. I've always liked to have more than enough. I don't tempt fate when I can help it.
And think about it. I'm bringing the importance of filling up your gas tank because what's a typical newspaper photo you've seen when there's an evacuation? The long lines at the gas station, right?
Instead, keep your gas tank filled at least 3/4 of the way full so that when there's an evacuation, YOU, my friend, are on the road.
Replenish Your Car Supplies
Some other things that you should have in your car all the time are:
hand sanitizer

trash can or trash bag for the car
And if there is a pandemic, please don't forget these things:
Emergency Kit 
One important thing to have is to have an emergency kit.
You can create your own with the ointments you have. Or you can buy a pre-made one. I'll let you pick your own first aid kit because different people prefer different things or expect different things from an emergency kit. When you choose a kit, if you end up buying one, focus on whether you like its construction and layout. Ultimately, you'll need to refill it, so it's better if you love the container, too.
If you have no idea what to include in an emergency kit, the American Red Cross has a very handy list of what to include in your first aid kit. Not only that, but they actually sell some kits on their website.
Make sure you add sterile gloves to your kit because they're usually not included. And go through your first aid kit because there's usually something that is missing or that YOU need or prefer. Also, check the quality of the bandaids. Do they stick? Not all bandaids are high-quality.
If there are ointments, put those in plastic Ziploc bags so in case they explode in the heat, it doesn't create a mess.
Speaking of ointments, I'd like to share with you my favorite ointment in the whole wide world. I've used it for years! It's the:
Melaleuca Melagel Topical Balm

Nobody wants to get cuts, but when you get one, this is the most soothing thing you can apply after washing your cut with soap and water. And I can vuch for the fact that it stays potent and strong for years.
If you ever have a moment, organize your kit so that all bandaids of one size are together, all wipes are together, etc… that way when you need something from your kit, it's super easy to find.
Have an emergency kit for each of your cars, and if you have a van camper or an RV, for those vehicles, too.
When it comes to replenishing your actual car…. think of maybe buying a car that's higher, if possible. Like a minivan or an SUV. That way, if it's raining, you aren't worrying AS you're evacuating about the amount of rain on the floor. Plus, a higher car can give you more visibility as you're driving out of town.
Your Priorities
In addition to having a repacked bag of your clothes, toiletries and snacks, you might want to have some of these things in your car:
Phone Battery Recharger
Having plenty of charge on your phone is not just a luxury, but a necessity.  And although you probably FOR SURE have a phone battery charger, I don't know if you always have it with you when you're on the road.
Aside from getting in the habit of charging your phone every night, it's important to always have a phone battery charger when you're on the road.
Personally, I have two. But one of them is NOT sold on Amazon anymore.
I have had that one for the longest period of time. It holds its charge really well because it shuts down automatically, so maybe that's a feature that you can look for. 
Even though it's the biggest one that I have, I prefer to have that one in my purse. But I have to admit that sometimes I carry both of them in my purse.
If you want a smaller, more compact battery charger that would fit in your jean pocket, you can use this one:
I mostly like to use this one at home (I have it in the pink) when I need for my phone to be charged up more but I don't want to be tied down to one location.
If I had to buy another phone battery recharger, I would get a solar power bank. Here are some you can check out.
Think Of The Practical
It's easy to get into the nitty-gritty of things and plan ahead for an evacuation or just wing it if you're ever in the middle of one… but what could very likely happen is that
Take working tools. Depending on what your profession is, take the tools that you would need to generate an income wherever you are. 

Phone with chargers

Computer with chargers

Work equipment if you're working from home
External hard disk
Don't forget your documentation
passports
birth certificates
deed or lease to home
proof of address
home insurance policies
life insurance policies
id
SSN card
any other important paperwork

Blankets (maybe pillows depending on your space)
toilet paper
Extra cash if you have it.
all the car and house keys you have– or at least one extra set.
umbrella or rain gear- depending on the evacuation reason
battery-powered radio or hand-crank radio. NOAA Weather Radio, if you want.
two -way radio if you have it. If not, consider buying it.
If you're not in a familiar area when you have to evacuate, take a map of where you are.
Toys For Your Kids
Have them take at least their favorite toy.
It'll probably  be sentimental but that might work to give them comfort
I recommend that you have toys or activities SPECIFICALLY for the road at all times. And NO, i'm not talking about giving them a pad to babysit them. That's not my style.
Buy them actual toys or activities. Here are some things that CAN keep them entertained on the road. (I'm not making any promises, you know how kids are 😉).
Crayola Color Wonder Stow & Go
Crayola Toy Story Coloring Pages
I don't know what it is, but kids LOVE this toy. And I know a couple of adults who love it, too.
The best tip I can give you is know your child. If you have an artist, buy them art supplies. If you have a reader, buy them books.
Think About The Emotional
In the last blog post we talked about how you should have one thing that you value so much that you would try to get it on your way out.
When it comes to evacuations you could get those things:
Hard disks

Family Recipe book

A scrapbook
Your journals
Your Lifebook
The drawing or cards people have given you

Jewelry

Your yearbook

Photo books– or photos you haven't yet scanned.
Expanding Our Consciousness
Like with many things, the part is an extension of the whole.
Although HOUSE fires are a threat, there is another danger that is sadly, becoming more and more prevalent and that is NATURAL fires (which are not so natural anymore and are in large part caused by climate change. Look, I know it's a touchy topic for some people— but if you don't believe in climate change, you can do your own research. Particularly, I want to encourage you to look into Jennifer Granholm, U.S. Secretary of Energy who recently spoke about how the federal money that has been allocated for "natural" disasters has been increasing by A LOT every year for decades.
While you and I have to do everything to keep our home safe, we also have to do everything we can to keep the planet safe.
When we don't do our part to keep the planet safe, we not only endanger our own home, but the homes of hundreds or thousands of people. That also means that we are also at the mercy of how other people treat our planet. And their actions and inactions can also endanger our home.
We Only Have One ☝️
If our house burns down as sad as it is, we have an alternative to buy another home or rebuild the current one.
But if we continue to destroy our planet that's it! We don't have another planet to go to.
And personally, I don't want to go and live on the moon on any other planet. This one has oxygen that's readily available for me and every other plant and living creature.
So help us take care of it.
Here are the extra things we can do:
If you go camping, put the fire out completely.
Switch to renewable resources when you can.
Buy solar panels when possible.
Embrace the fact that cars will be more electric or solar in the future. Embrace that. And prepare to invest your money into a more eco-friendly car in the future.
I know this is a bit challenging because we love instant gratification and/or we don't plan ahead to see what we are running out of— but when you order online, try to make your orders have more than one item. For example, wait to receive the products you buy until your Amazon ship dates (which you can choose, by the way) instead of selecting 2-day shipping, to receive your items, you'll spend less time opening boxes, there will be less boxes to open, so it's more eco-friendly and your purchase will require less gas for delivery.
When you happen to go out during the pandemic, and once the pandemic is over, plan your trips so that you waste less gas and time as you go.
Now It's Your Turn
I know I just gave you a bunch of information and gave you a bunch of tasks to do.
Please take the time to do them.
I give you this many tips and tricks because I care about you. Please know that.
And if you're ever in an unfortunate evacuation, I want you to feel peace knowing that you checked most of the boxes when it came to evacuating your home.
That way, you are safe and sound and you continue being part of this community.
Breathe. 🧘‍♀️ I know that the last two posts have been a bit heavy. It's better to plan than to be caught by surprise, though.  😉  And as I said, I want you to survive everything.
If you have any tips that you can give us regarding evacuating, let me know in the comments below.
If you can't think of any tips, tell me, what thing that you love and treasure (other than your family and pets, of course) would you try to remember to take with you and why?
I'd love to hear what you have to say. 😃