In a world filled with too much information and too many products, it's difficult to choose. So, what do we do? We read reviews, such as those on Amazon and we ask for recommendations from people who are in a similar situation as us.  So if you're wondering what preschool curriculum you should choose, here are 10 reasons why you'll love Mother Goose Time.
12 Reasons Why You'll Love Mother Goose Time
Reason #1: You Get To Make Your Child A Priority
We have way too many things to fill our day with.
It doesn't matter if you stretch your days horizontally and wake up earlier and go to bed later… you'll always have more to do.
It also doesn't matter if you stretch your days vertically and work every weekend and weekday, you still probably won't have enough time to do all that you want to do.
So, I have a tip for you that I often have to remind myself of: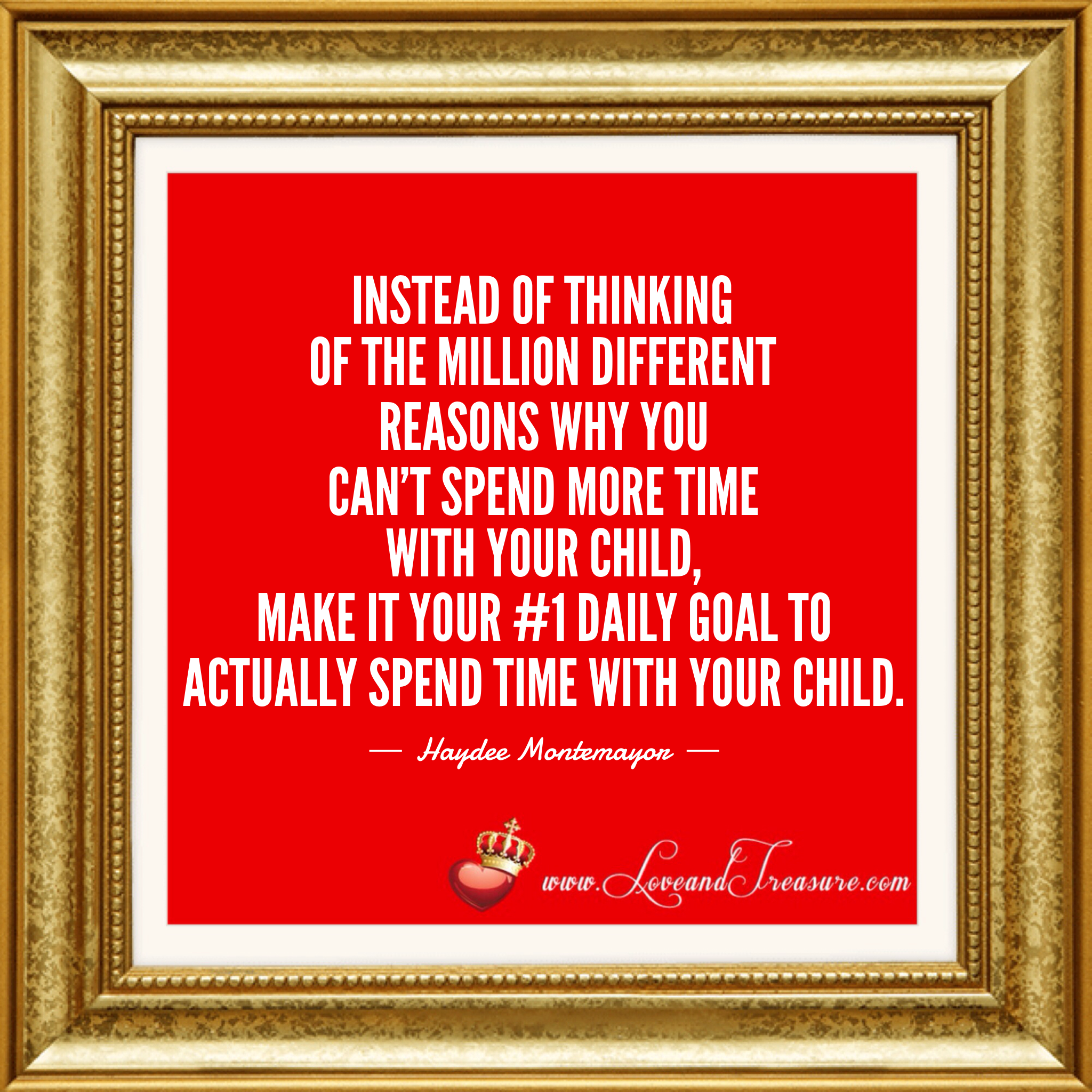 "Instead of thinking of the million different reasons why you can't spend more time with your child, make it your #1 daily goal to actually spend time with your child." – Haydee Montemayor
And while playing board games, watching movies and taking leisurely strolls in the park is perhaps difficult for our adult brains to think of as "constructive use" of our time and our child's time… (because we may think that those activities are waayyyy too relaxing and waaaaayyyy too much fun), it is easier to "brainwash" yourself into doing an educational activity, because you think you're still being productive.
But newsflash, your kids don't care about being productive. they care about spending more time with you.
So whether you decide to play, relax or teach them something… they'll appreciate it, deep down.
Reason #2: You Get To Be In The Front Row Seat
Pretend, that your child is the driver of their life… and you're they're co-pilot.
When you take the time to teach them, you get to see the emotional, psychological, spiritual and physical direction your kid is taking.
You get to see projects that your kids work on, not based on what someone else taught them, but rather, you see the whole procedure of how that project came to life…. thanks to your guidance.
"Who do you want to be in your child's life? Someone who sees snapshots of your child's educational travel album? Or someone who takes the journey with them?" – Haydee Montemayor
By teaching them, you get to see not just what your kids make, but also how they make it.
And their thought behind that creation.
What they struggle with.
What they enjoy, the connections that they make.
And you get to see the creator himself/herself.
In sum, you get to see the brainstorming session, the rough draft, the finished product, the bloopers, and perhaps most importantly, the way in which these little weekly and daily lessons transform your child right before your eyes.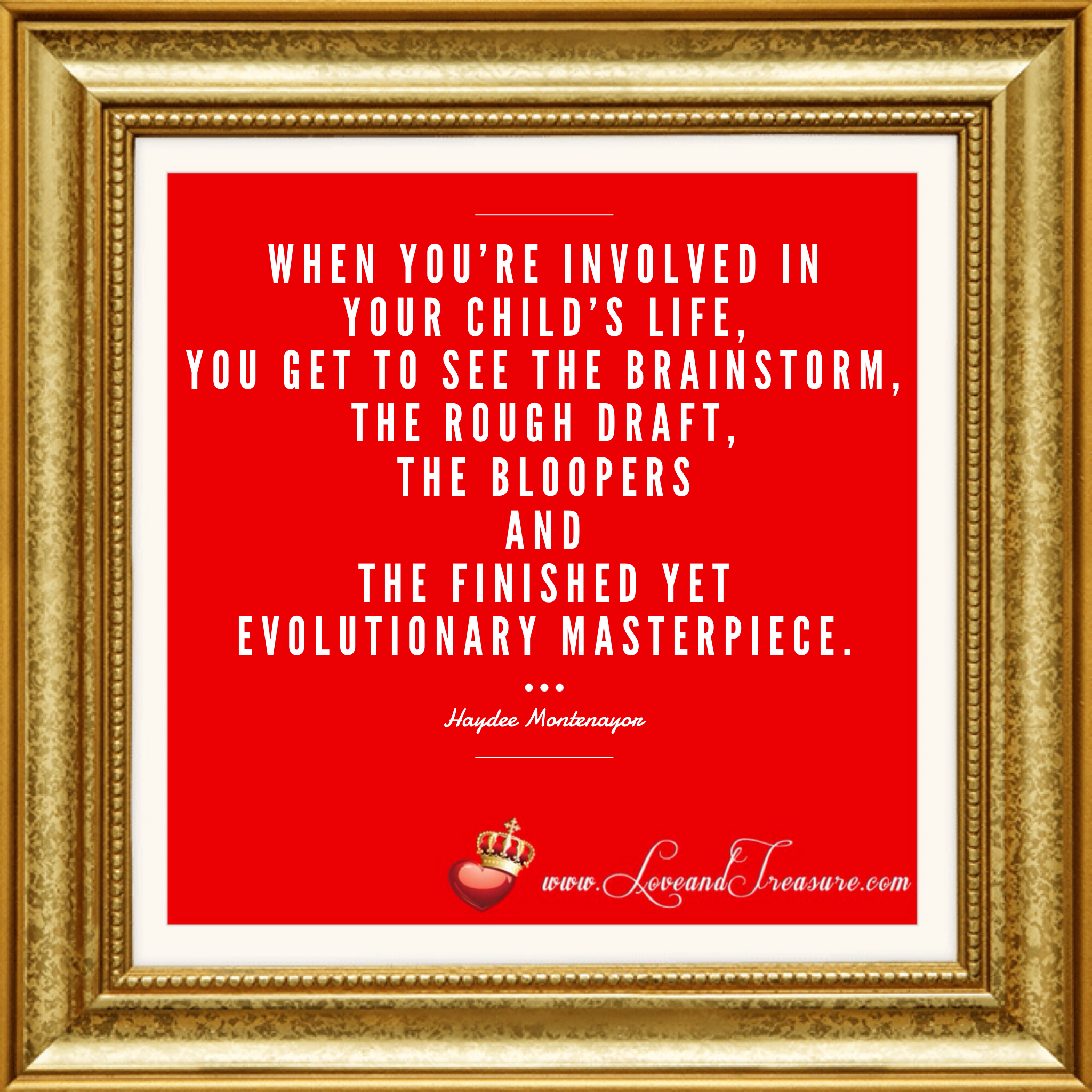 "When you're involved in your child's life, you get to see the brainstorm, the rough draft, the bloopers and the finished yet evolutionary masterpiece." -Haydee Montemayor
Reason #3: You'll Expose Your Kids To Lessons That You Wouldn't Have Otherwise
For example, if you were teaching your children about ponds, would you ever talk about…algae?
Yeah, you might mention it… but would you ACTUALLY have the materials and the resources to spend a half-day or a full day talking about algae?
Would you talk about submerged pond plants? For half a day or a full day?
How about bog plants? (Do you even know what those are?)
Emergent pond plants?
Floating pond plants?
A water strider?
A mayfly?
A backswimmer? (And nope, I'm not talking about a person who swims on their back).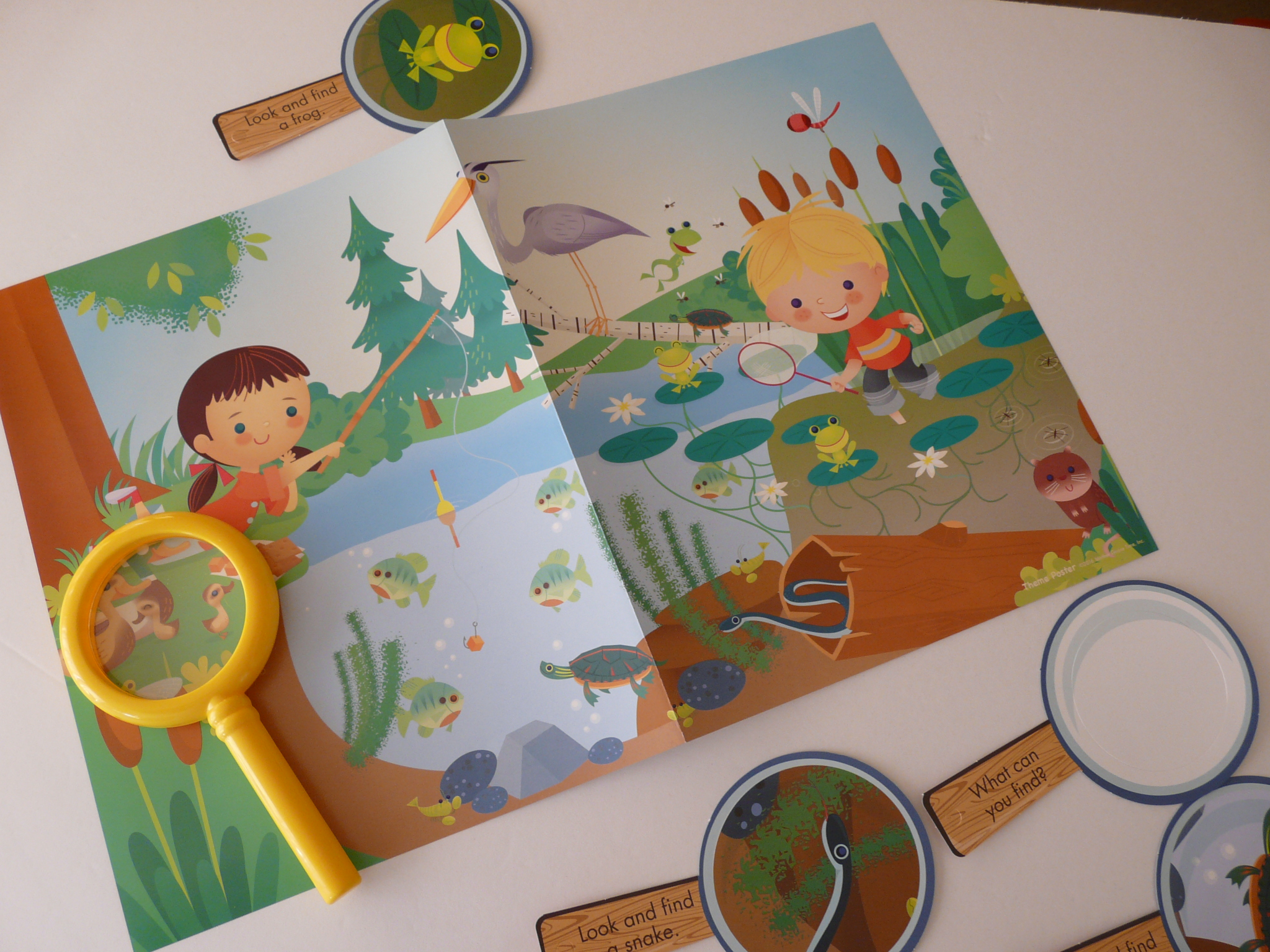 Reason #4: This Curriculum Is Pretty Much "Open And Use"
Why do I say open?
Because when you OPEN the box, you literally have about 23 or 24 bags.
Each of the 20 weekday daily lesson that you'll use for a given month comes in its own separate bag, in 20 Day Bags.
If it's your first kit, you'll get a Welcome Kit.
The Teacher Tool Kit which comes in its own bag will contain the resources.
The Circle Time Resources come in their own bag
If there are any holidays in that month, the Celebration Kit / Holiday Resources will come in their own bag, as well.
Reason #5: You'll Have Researched-based And Multi-disciplinary Lessons That Correspond To One Theme For One Full Month
While many of us "super moms" want to think that we're super savvy and that we could potennntially pull these types of lessons from the internet, the truth is, it's actually much more complicated than it looks to put together a comprehensive curriculum.
It would probably take you at least one month to simply to put the resources together in this fluid, interconnected and meaningful way. I'm not kidding.
Even if it took you half that time, that would mean you would be preparing the materials for half a month…each month.
Think about it, even if you wanted to put this curriculum together, you would need to get multiple things:
The daily activities for talking about the calendar, weather and schedule in Circle Time… that related to the monthly theme
2 songs (one for the beginning of the day, the other for the end of the day) and their adapted words so that the songs that correspond to both the daily lesson AND that also tied into the monthly theme
the opening activity discussion topics
the lessons (about 3 a day, with multiple mini-lessons in each)
the learning manipulatives
the craft materials, cutouts, art inspiration pieces
The daily recommended books
the included book
the investigation lessons
The planning guide
the journal
The closing activity discussion topics
In your busy life, that's probably already topped to the brim, do you honestly think that you could devote this amount of time to compiling all these resources and ALSO have the time to teach your kids? Nope, I didn't think so… because I don't have that kind of time either.
Even if you could pull that off.. would you be able to teach your kids lovingly and patiently? I'll let you answer your own question.
Reason #6: It's High Quality
Mother Goose Time lessons are high quality not only in terms of the quality of the materials themselves, but most importantly, they're high-quality academically -speaking.
Simply, said, the lessons themselves are high quality.
You see, learning is simply connections.
Think of them as links.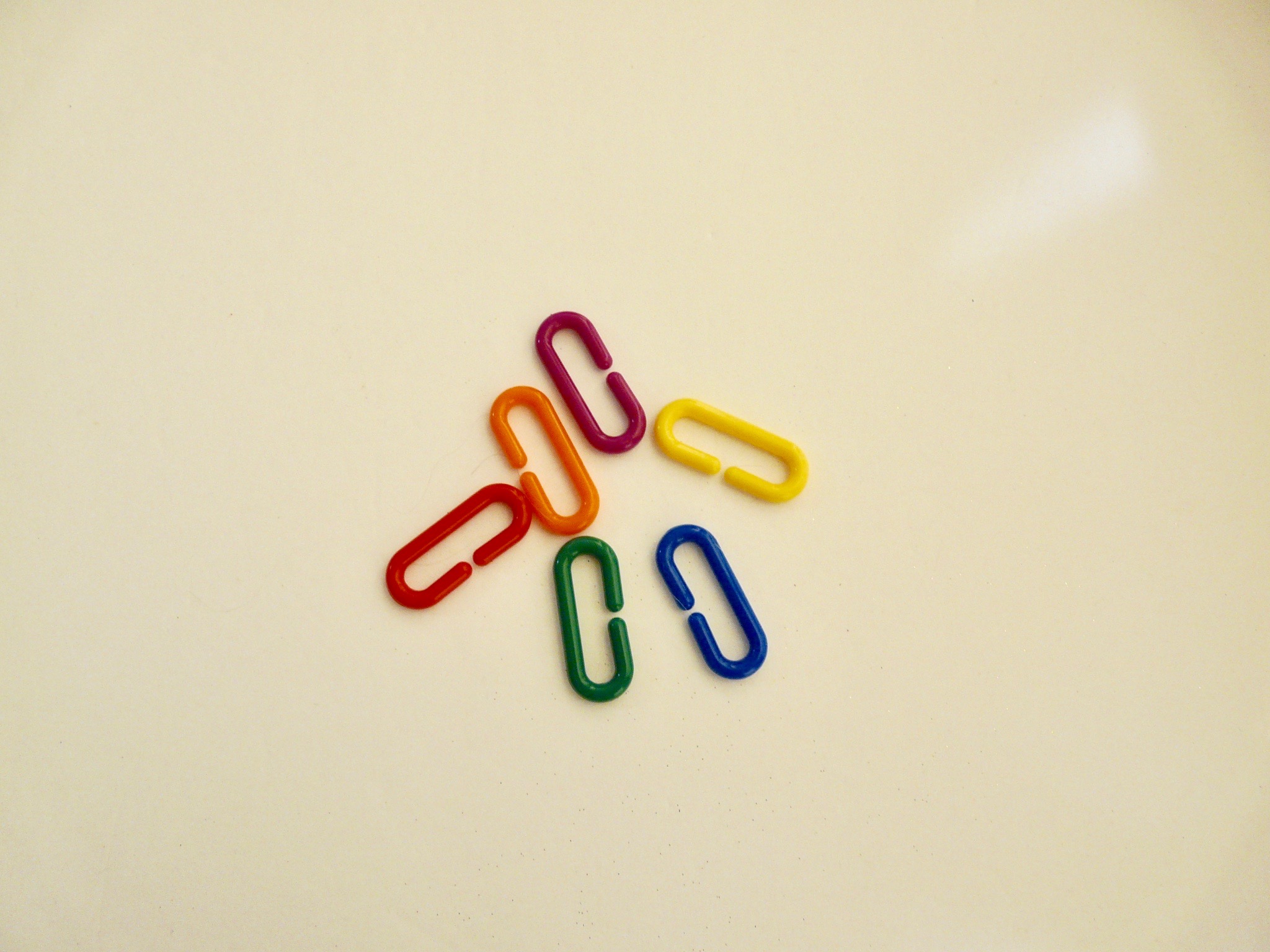 Or links that relate to one another.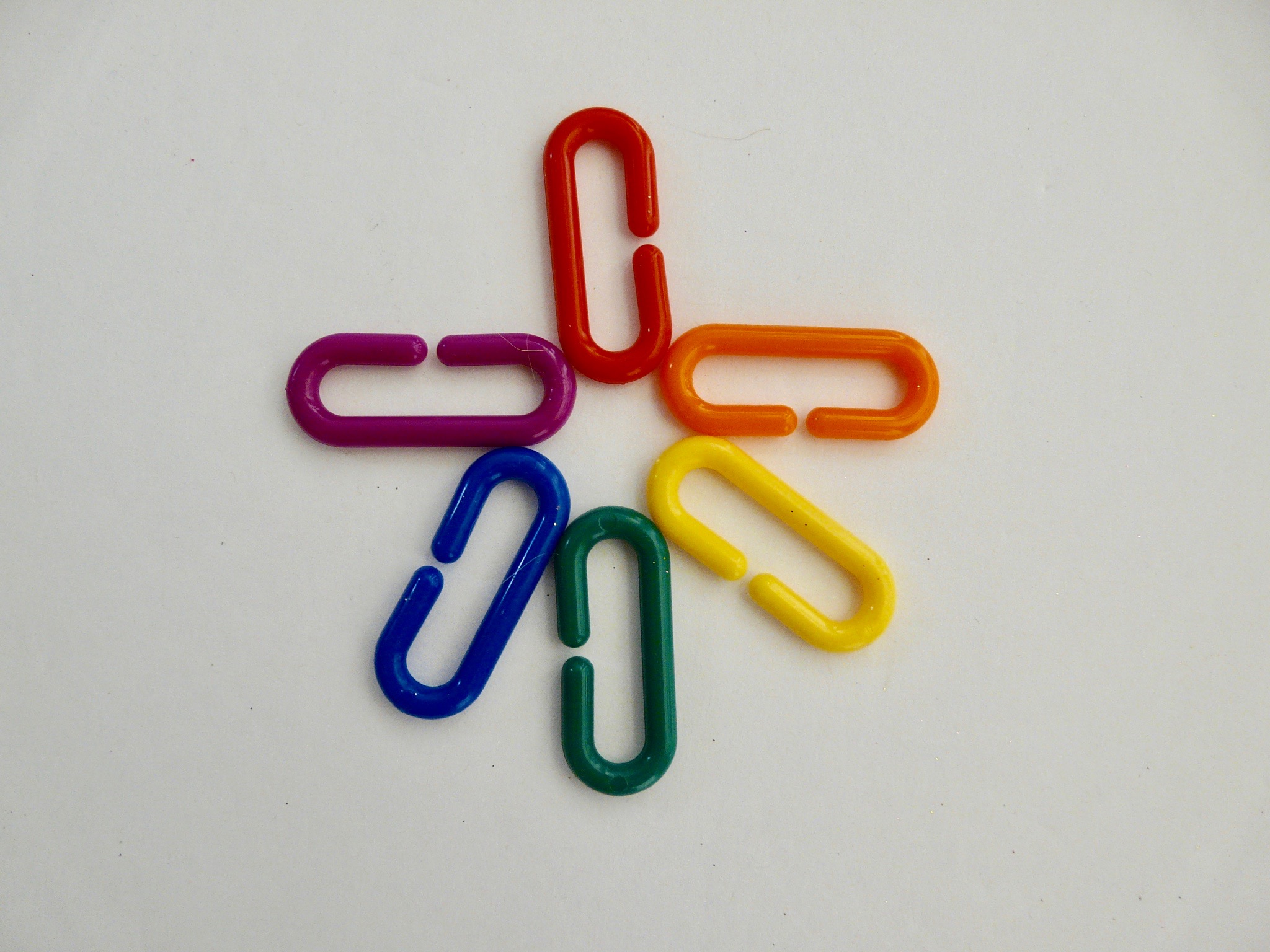 When you start digging into knowledge… you would tend to think that knowledge is like columns.
You would think that all the concepts that we know are one initial link (the first link). Then, when we come across something new in our life that's related to that initial link, we link the new link (the second link) to that initial link (the first link) to make a connection between the two concepts.
Scientifically speaking, each concept is called, schema or schemata (plural). All the concepts that we know are schema… and when we add more pieces of information to that original schema, our understanding of the subject becomes deeper.
But, as you can imagine, well know, and have experienced… knowledge isn't always linear.
As a matter of fact, it rarely ever is.
There aren't perfect "rows of knowledge" or "rows of concepts" that go on forever.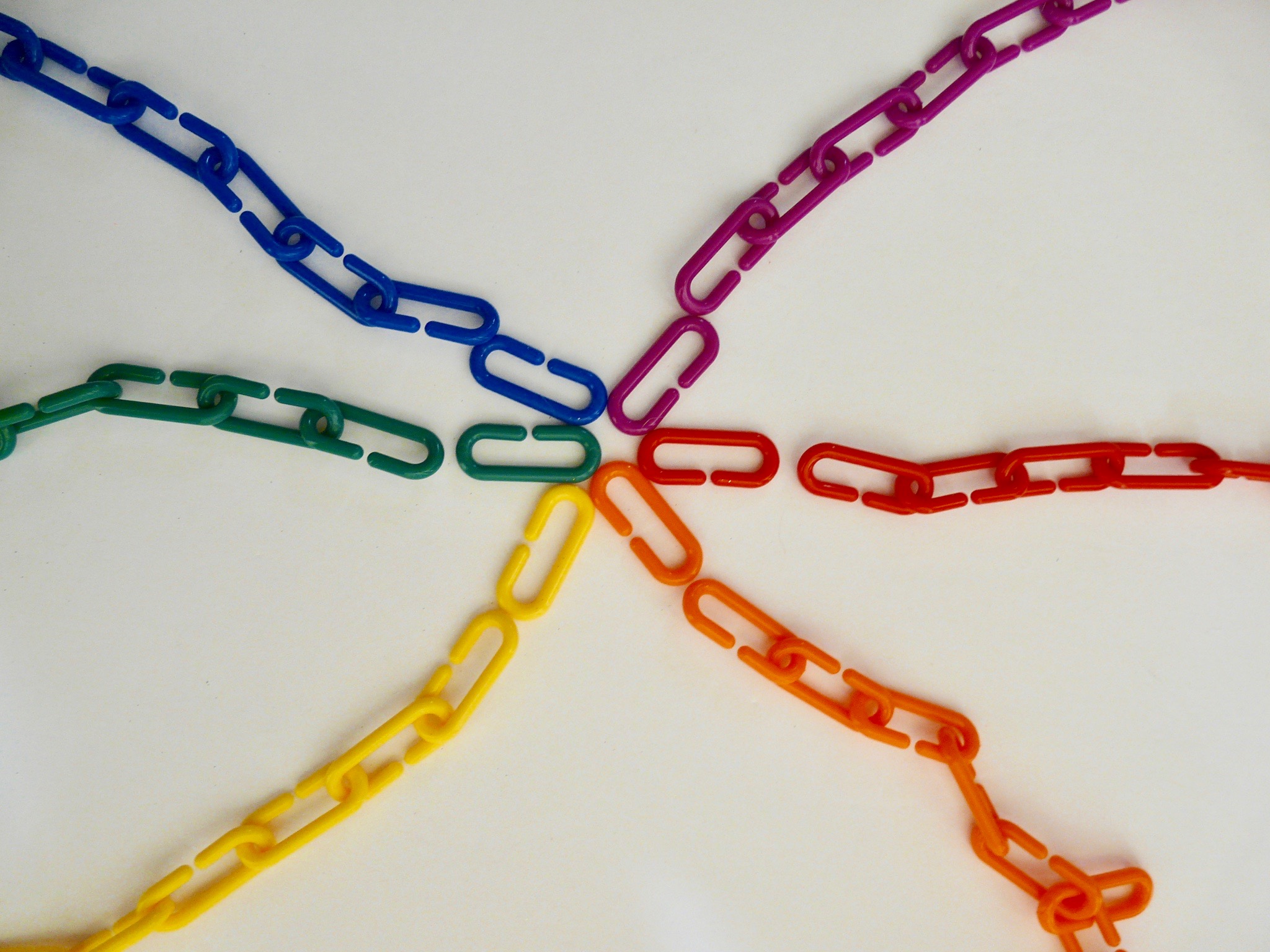 Rather:
"Knowledge is like a web, in which the rows of concepts connect between themselves and everything ultimately ends up being interconnected." – Haydee Montemayor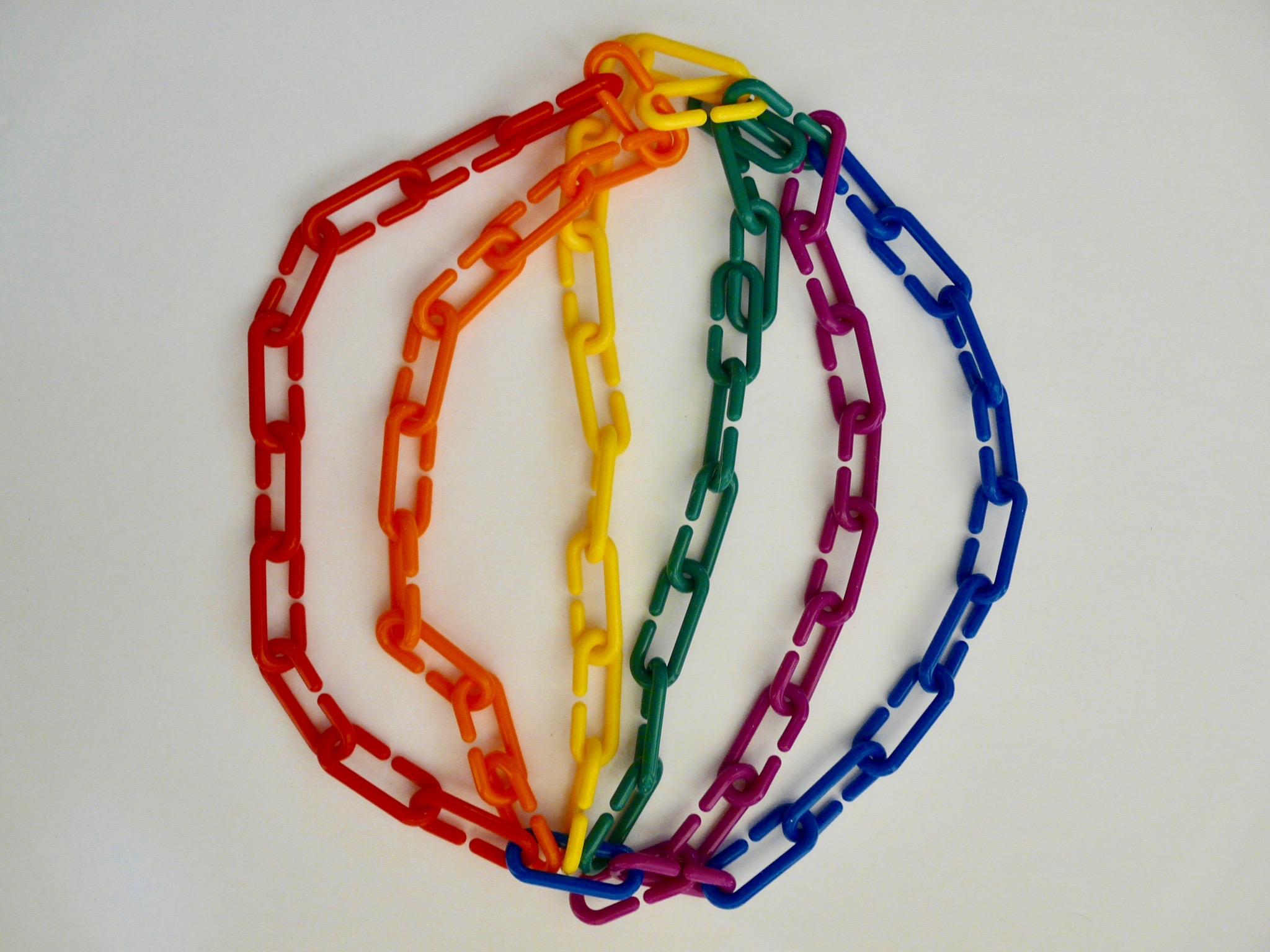 With Mother Goose Time, you will be able to help your child make even more connections and see more patterns than they normally would in order to help them understand the world because you would have taught them the majority of the lessons yourself, so that would give you the leverage or knowledge to help them link concept links.
You could bring up one memory after the other to make this sort of connection.
For example… you could say:
Remember when you helped me cook…?
Remember when we went…?
Remember when grandma told you about…?
Remember the book we read that talked about…?
Remember the game we played that… ?
These types of questions are endless.
And the beauty about a program like Mother Goose Time, is that often, you don't have to be the one to bring up these connections because it will be your child saying things like:
This is like…
Like Thomas the Train…
Like The Hungry Caterpillar…
Like the birds that we talked about…
Remember when you read me the book… ?
In other words, they will link lessons to lessons, lessons to the natural world, lessons to stories and lessons to their toys. It's all good. It's learning.
Reason #7 You'll Better Understand The Types Of Activities That Are Adequate For Your Kids At This Age
As parents, we think we know what activities are best for our kids, but… new toys come out. New educational research is done. There are safety recalls that are done. School standards change. Development research continues to develop.
In other words, we can't just rely on toys to educate our children. But knowing the right educational activities is hard.
You know why? Because educational activities aren't necessarily "good" or "bad" (unless the content that you're teaching in these educational activities is good or bad)… but I've found that the best activities for preschoolers are those that are well-designed… but open ended.
In other words, what we're gauging, is at the pre-school level is each child's abilities, as well as their potential.
So their abilities and potential aren't necessarily "good" or "bad."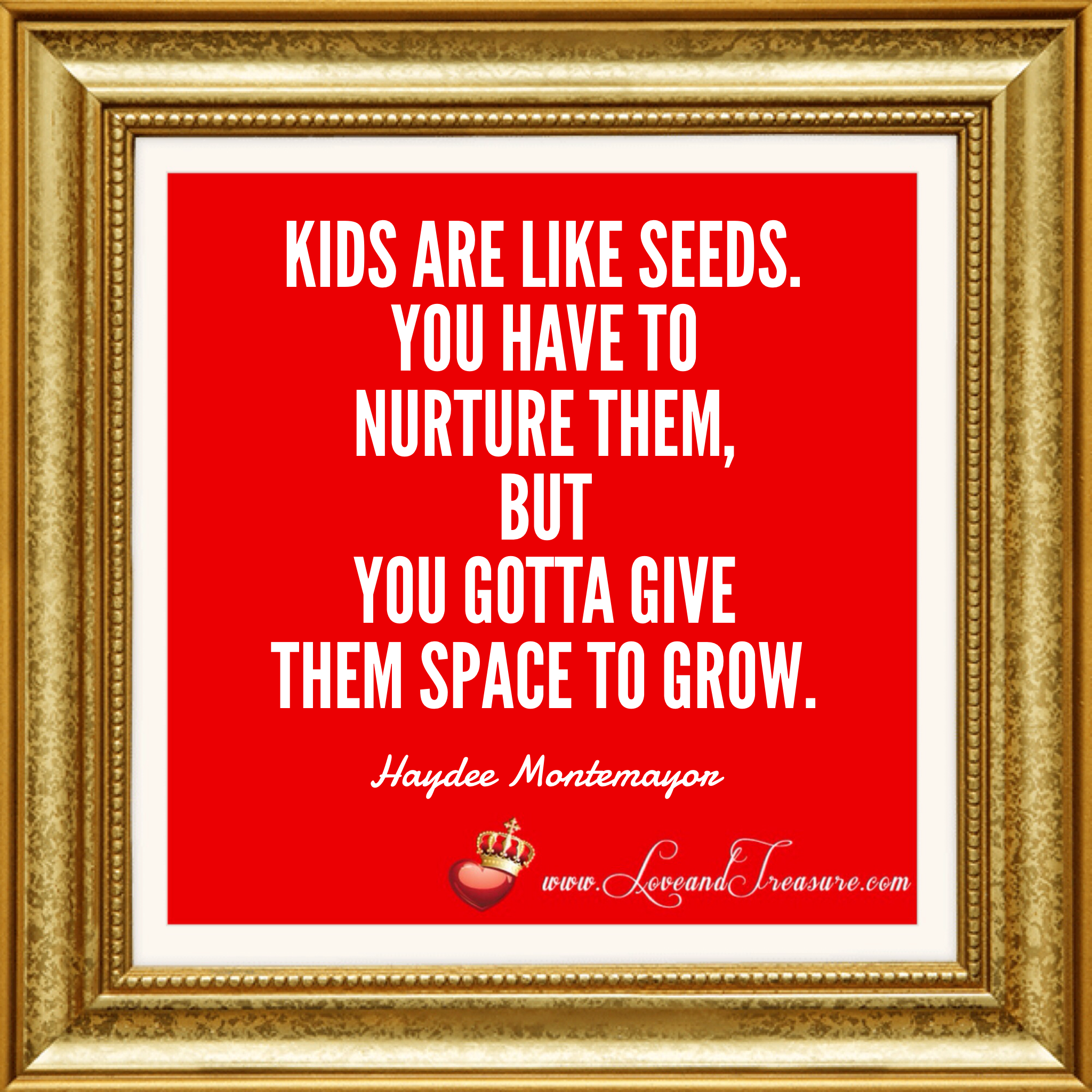 "Kids are like seeds. You have to nurture them, but you gotta give them space to grow." – Haydee Montemayor
They are unique and will blossom in their own time.
Reason #8: You'll See Your Kids Enjoy Mother Goose Time Like Crazy!
In my last post, 10 Reasons Your Kids Will Love Mother Goose Time , I explained, exactly that.
And it's one thing to read about your kids potentially enjoying Mother Goose Time,.. and it's a whole other thing to see them really experience and enjoy those activities.
You know that as parents we're totally susceptible to the joy of our children.
And just to give you a little bit of perspective… imagine how you would have felt as a kid learning about the world in a fun, crafty and super-engaging way. That's how Mother Goose Time is.
Reason #9: You Can Get In Touch With Your Own Creativity
So now that you have started to imagine how fun it would have been to learn in this way form potentially the comfort of your own home, and from your parents who would have made the time for you, let me just let you know that even if you're saying internally…
"Yeah, right, my parents wouldn't have done this for me/ been able to do this for me/ or made the time to teach me this way." … forget your parents.
Now, that YOU'RE a parent, you can not only parent your child like this….
BUT… there is a big BUT right here…. you can also participate in these activities.
It will not only be beneficial for you, but it will be beneficial for your child (I'll talk more about this in my next post).
But suffice it to say, you'll have fun by getting in touch with your creativity.
Reason #10 You Can Learn A Thing Or Two
If you're a TRUE, sincere learner, you KNOW that this is just a given.
You don't know it all. You weren't taught it all. You weren't exposed to it all.
So learning about bog plants or emergent pond plants… along with your child is perfectly acceptable.
There's no shame whatsoever. Remember, stay humble. Most importantly, express true wonder and curiosity about the things that you and your child are learning, and you'll turboboost your child's capacity to wonder about the world… for life.
Reason #11 You'll Have The Satisfaction Of Teaching Your Children
This is one of those reasons that can't be said enough.
YOU, mom, YOU dad, are MORE capable than teaching your child their shapes, the colors, the numbers and their ABC's.
Is that clear?
And while the amount of items you get with the Mother Goose Time curriculum is A LOT. And maybe a little bit overwhelming if you've never taught before, please know that the lessons are explained SO well..and the curriculum is so user friendly that you really can't mess it up.
And just so you know, the Family Newsletter will provide you with parent-friendly ideas to start making connections between the concepts that you'll teach your child and their day-to-day life.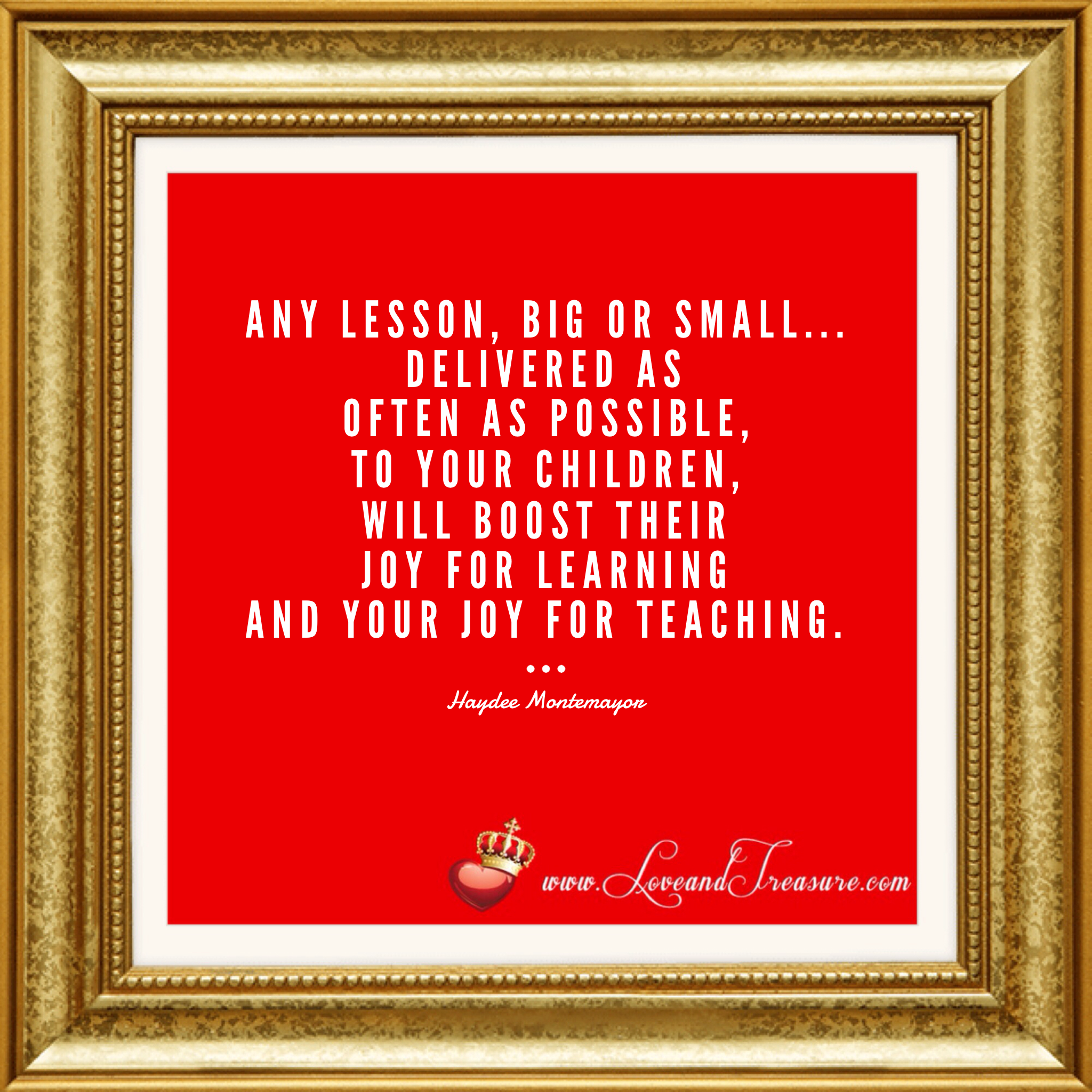 "Any lesson, big or small… delivered as often as possible, to your children, will boost their joy for learning and your joy for teaching. " – Haydee Montemayor
YOU ARE your child's 1st teacher.
And while it might be tempting to wait for some distant future to get here for someone else to teach your children all they need to know (a.k.a. a school teacher)… let me tell you this, in the most loving way possible… NO TEACHER… like NONE, will ever be with your child for most of their life…. to teach them everything that they "have to" know. Zero.
YOU were chosen to be with your child from day 1.
And while there is a special place in the world for teachers, who by the way deserve WAYYYYY much more praise than they get, remember that your child is YOUR diamond.
You don't ask a person to take care of your diamonds for you for most of the year, for most years and years, do you?
(Unless maybe you have one of those safe boxes at a bank).
My point is, your child, your diamond, is YOUR treasure. Love and Treasure them.
(That's the whole point about this blog… to remind you and to remind me, those and that which is truly worthy of us loving and treasuring them).
Reason #12 You'll Make Memories With Your Children
Again, I can just sigh thinking about this reason.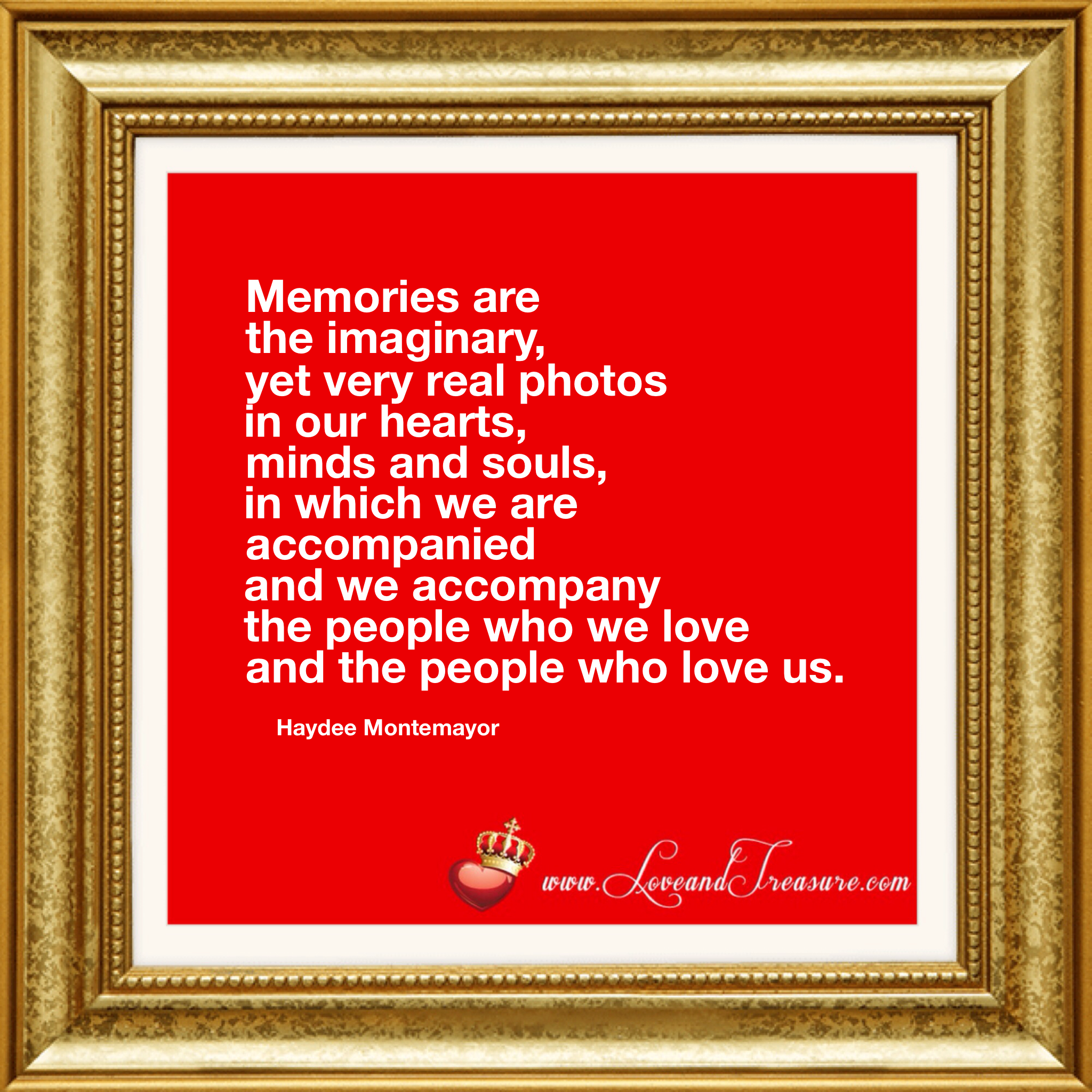 "Memories are the imaginary, yet very real photos in our hearts, minds and souls in which we are accompanied and we accompany the people who we love and the people who love us." – Haydee Montemayor
And speaking of, crafts, these lessons, aside from having an educational value, have a memory-keeping value.
These lessons provide:
great photo-taking opportunities
journaling opportunities
and even creating a portfolio, scrapbook or file of what their best, most meaningful activities are at this point in their lives.
You will one day be able to look back and see how your children wrote their name, their last name, colored, did art, cut paper and drew.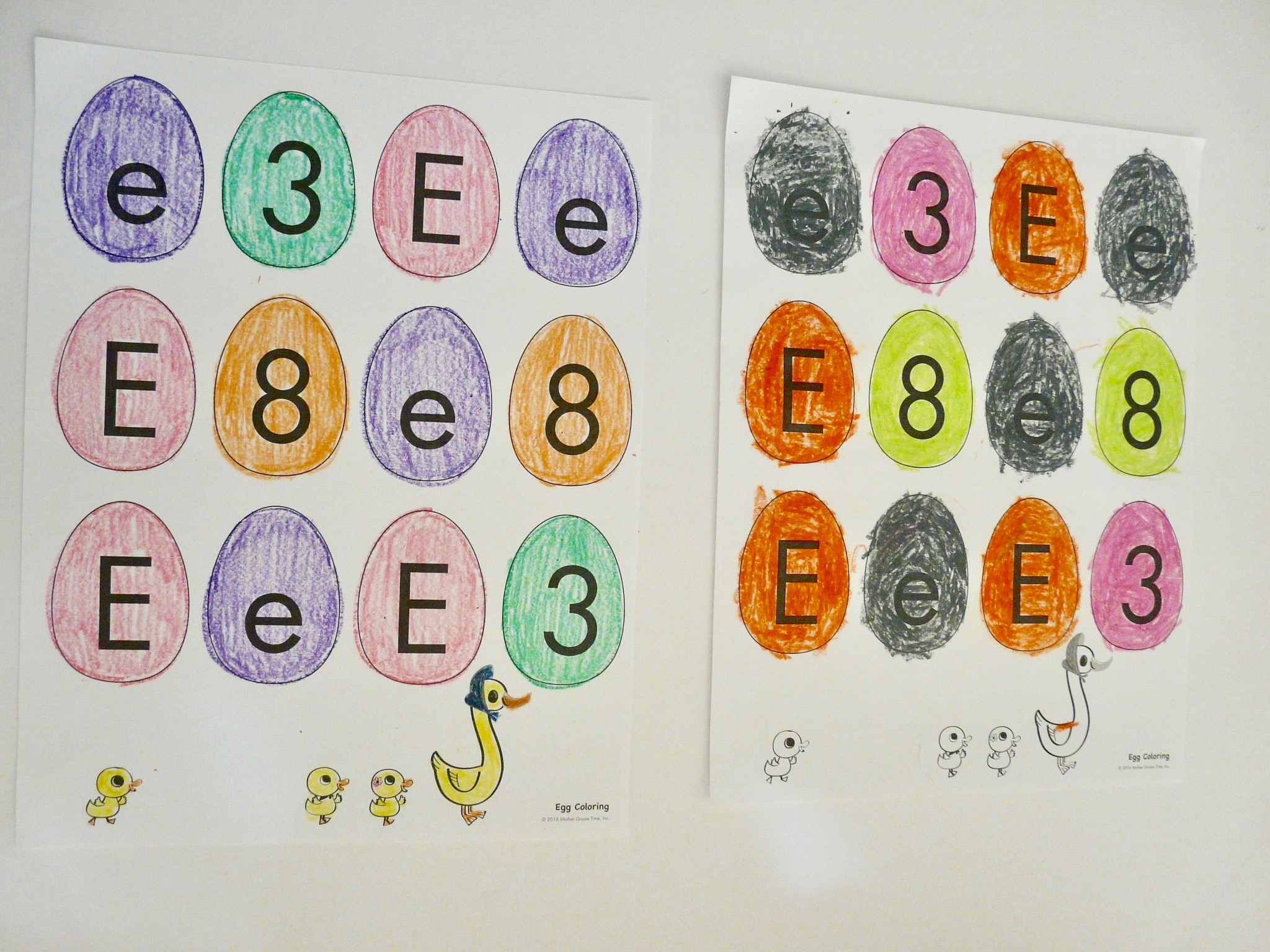 These precious moments of learning are happening in front of our eyes, and if we don't stop to pay attention and record them, they will slip us by and we won't remember them.
It really doesn't matter how good of a memory you have or how much you love your children… you will forget things, so be able to preserve the things along these learning journey that you think you and your child will cherish in a few years.
To Wrap Up
Hopefully, you feel encouraged by these 12 reasons to engage in your child's learning.
Find high quality lessons, a homeschool curriculum of your choice or use Mother Goose Time to teach your kids.
The most important resources are you and your child.
If you're worried about teaching your child educational lessons the wrong way, don't be.
In the case of Mother Goose Time, there is greater flexibility in these lessons than you would initially think because the curriculum isn't mandated by a school institution or school district.
You are simply teaching your child based on the materials provided and your knowledge of the child themselves, which is a great plus.
To give you some encouragement and to let you know that "You've Got This" perhaps the one thing that you should keep in mind with the Mother Goose Time Curriculum (or any other pre-school curriculum) is that its slogan, which you'll be reminded of every time you open the box says it all…. "Helping You Grow Lifelong Learners."
And isn't that what life is really about? Helping, growing and learning for a lifetime?
And I even would dare to say that the best way that we can show our children how to be lifelong learners is by being lifelong learners ourselves… and for them being able to be on that learning journey with us. After all,  it's a two-way street. ? We benefit from their company and they benefit from ours.
Now It's Your Turn
Have you used Mother Goose Time? If so, as a grown-up, what is it that you love most about it?
If you haven't yet tried it, which of the reasons mentioned above makes you the most excited in trying it? Or better yet, to simply using whatever resources you can to teach your child?
Leave your answers in the comments below.
If you would like more information about the Mother Goose Curriculum, which I have received for free in exchange for my honest experience with this program, visit… www.mothergoosetime.com .