Isn't the following a beautiful quotation?
Have you ever felt stuck in deciding what you want in life?
Have you ever struggled to complete your goals?
Are you secretly feeling 'blah' about having reached your goals because all you care about is that you got to check off that item from your to do list? Do you say to yourself, "it's done" and it's all that matters?
If you answered yes to all of the questions above, then you definitely know that in order to live a more fulfilled life, you need to do more than just cross off items on your to-do list.
You need to LIVE. Truly live.
Enjoying the process each day.
My friend Danielle LaPorte is an author of acclaimed books such as The Firestarter Sessions and The Desire Map, motivational speaker and blogger whom I've admired greatly for the last 2 years.
I love the truths she shares and how she shares them.
Her style is a combination of "deep" and "to the point."
If there is anybody who has a good aim to the heart and soul, like a cupid almost, it's Danielle.
You Can Aim For Peoples' Hearts And Souls, Too
Danielle LaPorte will be launching The Desire Map Licensing Program, which is a ready-made business for people looking to create an income stream or supplement their income stream while TRULY making a difference in other people's lives on January 7, 2015.
And you can learn what The Desire Map is all about and apply it to your own life… and once you know the impact that it makes, you will want to share it.
You don't need any prior knowledge or certification to participate and or start this business for sharing good in the world.
You can be a Desire Map facilitator, a Desire Map coach… or simply be the friend who wants to share Desire Map transformative information with her friends.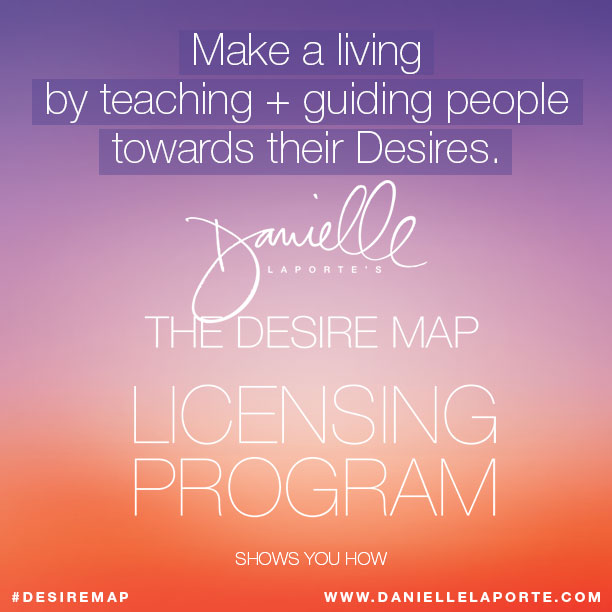 If you want to get some great prelaunch bonuses and be able to pay for the program over time, you can do so by purchasing The Desire Map Licensing Program prior to January 6, 2015 at midnight, check out this link to find out the juicy details.
If you want to purchase The Desire Map Licensing Program starting on January 7, 2015 once her program officially launches, you can do by using this special link.
I realize that The Desire Map Licensing Training is an investment, but if you're looking for a course that teaches you how to teach others how to use their heartfelt desires to achieve their dreams by zeroing in on how they want to feel on a day by day basis, then this course is for you.
If your core desire feelings resemble these, then this program might be for you:
Loving
Giving
Expansive
freedom
Lead
light
Helping
Uplifting
Encouraging
Meaning
guiding
lightworker
Entrepreneur
Creative
Impactful
change agent
Teach
Transforming
Motivational
Patient
Go-getter
yoga
teaching
wellness
Who Is The Desire Map Licensing Program NOT For?
Danielle's program is not for you if your core desire feelings aren't to feel:
Entrepreneurial
Business-oriented
Hustler
Giving
Generous
Expansive
Impact
Difference
Keep in mind that you can have feelings such as uncertainty, nervousness and hesitation when making this leap, but deep down, only you can tell if this program is right for you. Honor your intuition and the way that you want to feel.
What Are My Core Desire Feelings For Me and For YOU?
Even if you decide that you don't want to buy the licensing program, please do yourself a HUGE favor, and work through The Desire Map to identify your core feelings in the various categories of your life that Danielle walks you through.
At the very least, identify what core feelings you want to feel generally speaking.
I will share my core feelings with you.
1. Love
2. Freedom
3. Peace
4. Metamorphosis
5. Expansion
What identifying these core feelings has helped me do is to know even before starting anything on my to-do list whether something will uplift me, do nothing for me or drain me.
Of course I like to do things that uplift me. Especially because I know that if I'm in an uplifted state, I can have the internal integrity to uplift others.
As much as you'd like to think so, you are not a victim of your conditions.
Really, you aren't.
And more often than not, when you feel the worst in your life it's not because the external circumstances, are destroying you, it's because you're feeling torn emotionally because you'd like to make better, more uplifting and fulfilling choices for yourself and you think you can't.
I get it, I was once there. And sometimes feel that way from time to time on smaller things, thank gosh!
So feel empowered, clear and aware of your desires.
Honor them.
Your desires are really there to guide your life.
To tell you what would make you happy.
Would you like a magic wand that could provide you with the life of your dreams?
You already have them— they're your desires.
So, go ahead, buy The Desire Map, honor yourself and your desires, and your life WILL transform.
Why? Because you'll understand once and for all, that the happiness and fulfillment you're waiting to get "one day" can be yours "TO day" once and for all.
If You're New To Danielle and Would Like To Know More About Her Products
Understandably, The Desire Map Licensing Program isn't for everybody.
But, there are products that will allow you to be positively influenced by Danielle.
If you are simply intrigued in learning more about The Desire Map process, you can purchase the following items by clicking on the images below.
I thank you in advance if you buy any of her products through me because I will be compensated.
Now It's Your Turn
Do you love Danielle LaPorte as much as I do?
Are you planning on starting your own business this year?
If so, please share all of your interesting details in the comments below.