Doing laundry is one of those household chores that practically nobody likes to do. And even though my blog is called Love and Treasure. I certainly don't love or treasure this task.
Steps To Doing Laundry
In case you've never stopped to wonder why you dread laundry so much, let me tell that it's probably because, as you know, one of the most annoying things about doing laundry is that there are sooo many steps to it.
To show you what I mean, I have compiled a list of what laundry entails, although I understand that there are many different ways of doing laundry… and that this list is so long that I probably missed a step.
You're welcome to read the literal laundry list, but it's super boring… just like doing laundry. So I won't be offended if you just skim through it.
Putting the item in the laundry basket (hopefully into one that's already predetermined by color so that the laundry ends up sorted when you're about to wash it).
But if you don't have that kind of system, you need to sort it.
Then you have to brainwash yourself to do laundry.
You then put the hefty load into the wash (making sure than any super delicate items get the necessary attention). Hopefully, you have trained your family well so that you don't have to check pockets.
Next, you get the detergent, measure it and pour it
Then you get, measure and pour the softener
You turn on the machine
You think about what setting would best go with the load you put in.
You select the settings and turn the machine on.
You walk away and start doing other things.
You HAVE to remember that you washed and have to make sure that you can drop everything else you're doing and take out the wet clothing at a semi-convenient time.
You either put things that you can into the drier. Or if you're like me you line dry everything. For ecological reasons, economic reasons, so you don't have to think about what's safe to dry in the drier, and because deep down you don't want to ever have to wonder if the reason you're not fitting into your jeans is because they shrunk or you gained weight. It's better to know the truth, right off the bat.
Then you have to allow the clothes to dry.
Then you have to go fetch it, either from the drier or from the clothing lines.
Theeeeennnnn, you have to sort and fold… or fold and sort, whatever you prefer. And if you're folding the Marie Kondo or KonMari method, you have to have enough love and care for your thing in you to want to fold things a certain way and organize them a certain way. (I do highly recommend the KonMari method, by the way, although I realize that it takes quite a bit of dedication, especially when it comes to laundry).
Finally, you have to put the clothes back into their respective locations.
You probably collapse on the ground due to exhaustion.
You repeat the cycle again as soon as you get up, the next day, the following day, or sometime during that week.
No Wonder We Dread Laundry, Right?
So, what if I told you that you could make this loooooong and honestly, boring process a teeny tiny bit easier?
Would you consider it?
You would still have to do most of these steps, of course, but instead of having to do steps 5 and 6… you use Crystal Wash spheres.
I know, I know, you're probably asking, "You use WHAT?"
Crystal Wash spheres that replace detergent.
Due to the bio ceramics inside.
These bio ceramic "pebbles" are not magic crystals, but when it comes to doing laundry, they're the closest thing to it.
NOTE: Crystal Wash has provided me with an affiliate link, so that means that if you purchase your Crystal Wash units through my link, you'll  help support my blog, something that I would really, really appreciate.
Crystal Wash units (which is what I'll call the set of two spheres) eliminate the need to use laundry detergent or laundry softener for most of your laundry. If you're in love with your detergent or fabric softener scent, you could use a small amount of either or both.
The only time you may actually NEED to use something other than the Crystal Wash units is if you want your whites to be really, REALLY white because these units aren't as effective on white clothing as they are on other colors, but they're pretty effective. If your laundry needs a whitening boost, you can use whitener.
Even though I'm not an advocate for using bleach, you could use bleach with Crystal Wash.
What Is It?
Crystal Wash spheres are made of a non-toxic plastic called Santoprene that contains openings to allow the properties of the bio ceramics contained inside to work.
They are made by an eco-conscious company and therefore, both the outer sphere and the inner bio ceramics inside biodegradable.
Crystal Wash units have no detergents, chemicals, dyes or perfumes. As a result, it increases the longevity of clothing. And seen that way, it helps increase your savings.
They work with front and top loading machines.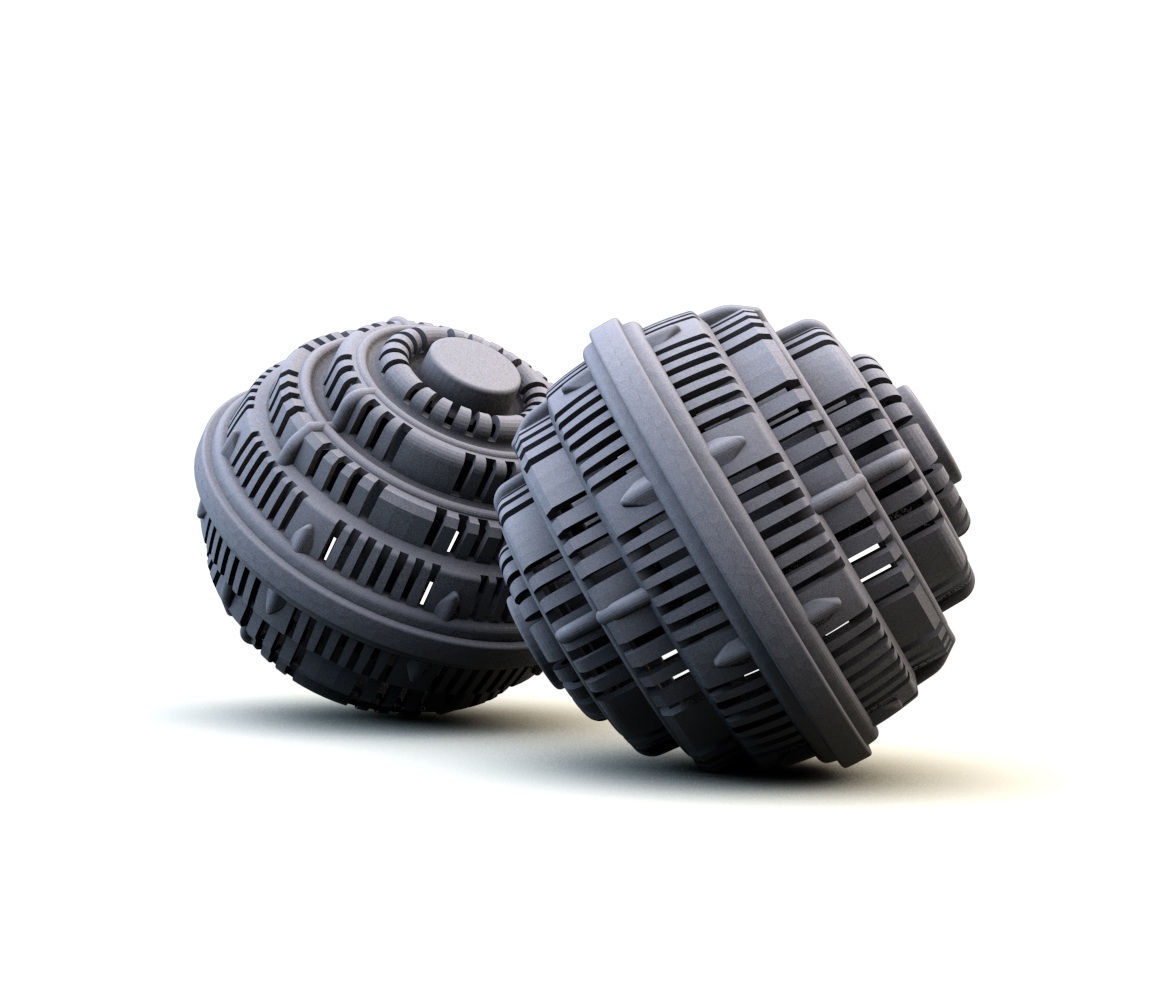 Why Does It Work?
According to the Crystal Wash website, Crystal Wash units have bio ceramics from the Earth (made of Calcium, Magnesium and Zinc) that have powerful antibacterial and antioxidant properties.
As the spheres move inside the washing machine, they change the chemistry and PH balance of the water which creates a natural hydrogen peroxide effect.
This process helps:
disinfect clothes
kill bacteria and
naturally absorb odors from your clothing.
Plus, the increased alkalinity in the water allows the dirt and soils to be soaked free naturally, thus deep cleaning your clothes.
You can have added peace of mind knowing that Crystal Wash units work with hard or soft water.
In order to remain effective, every 2-3 weeks, or more accurately, every after 30 washes, you need to recharge the units by placing them in the sun and in fresh air for an afternoon. If you don't have a safe place to put them outside, you can put them on your windowsill with the window open. The units will recharge even if it's cloudy.
In addition to saving money on buying detergent, you can also save a bit of money on your electric bill given that even though the effectiveness of Crystal Wash units increases in warm and hot water, it actually works in all temperatures.
What Do I Honestly Think About Crystal Wash?
I've been using the Crystal Wash units for about a month and a half since I wanted to use them for a while before I gave you my true opinions regarding them.
When I heard about Crystal Wash units through other people who were using them, I was really excited to try them especially because I had been making my own detergent and wanted to not even do THAT and just have something that I could use for 1,000 loads without worrying about buying, making, measuring or running out of detergent.
Amazingly, if you're doing laundry every day, 1,000 would equal about 3 years. That meant that by having these units, I would have about 36 months of convenience of simplifying doing laundry.
So, I bought my very own set.
Like any other product, Crystal Wash has its pros and its cons.
The Pros:
They're natural, which is one of the main reasons why I had been making my own detergent to begin with.
The units are aesthetically pleasing. I know it's irrelevant, but they're much nicer to look at than a bottle of purchased detergent or the container where I had been storing my detergent. They're not "beeeeautiful, per se, but they're cool."
They allow me to brainwash myself and do laundry much more frequently. Knowing that I wouldn't have to spend as much time preparing the items to be washed.
They're non-toxic. The water that has been tested after washing with Crystal Wash is less toxic than the water that remains after washing with regular detergent. Crystal Wash has been cleared by the FDA.
They're safe for cloth diapers, which I wash.
They're safe for baby clothes, which eliminates the need to buy multiple detergents.
The grooves in Crystal Wash units have been designed to be gentle with delicates and intimates.
While the cost seems a bit high, when you do the math, the cost per load is really inexpensive.

According to the Crystal Wash website, you would spend about $300 for 1,000 loads of laundry using store-bought detergents. However, the most you would ever pay for the Crystal Wash Set is $50.00.

Right there, that's a $250.00 savings every 3 years or so. Or about $83.00 a year.
Depending on the deal that you get when you purchase the Crystal Wash Units, the cost per load will vary.

If you pay $50.00, that's about $0.05 per load.
If you pay $40.00, that's about $0.04 cents per load. You can get 20% discount by using this link.

To wash 1,000 loads with store-bought detergent, you could have to lug about 40 detergent jugs home.
Just last week, I had to wash lots of loads of laundry as if I were spring cleaning since I did in fact wash bedding, 3 sets of curtains, shams, towels, about 2 loads of cleaning rags, cloth diapers, general dirty laundry, cloth toys, table settings, runner and cloth napkins, and the list goes on and on… and if I had to use detergent and softener to do this task, I am SURE I wouldn't have done it as fast, as easily or with as little whining (I whined because of the time crunch I was in, not because of the actual need to do laundry itself).

The reason I'm mentioning all the laundry I had to do last week is because it was the week that I loved the Crystal Wash units more than ever!
They made a pretty unbearable and stressful time (due to the other types of cleaning I had to do and the time constraints I was in) much less stressful.
The Crystal Wash units were like my allies and we were on a mission to get all of the things we had to get cleaned, clean. I know it sounds like I'm exaggerating, but perhaps you've been or will be in a situation like this when what I'm sharing will make sense.

The Crystal Wash units make laundry easier, like a no-brainer. Even children could help you do laundry. 😉 (Not that I've tried that, yet).
Don't be surprised if your spouse is more open to doing laundry.
These units are gentle on the environment
They eliminate one extra chemical product from your home.
The Cons:
It doesn't clean 100% of the messes all the time, but then again, what cleaner (detergent or not) does? None, that I know of.
It doesn't come with through "directions." While using them is simple, this is an innovation that we could all get introduced to better. While there are some directions on the box, a lot of the information addressed in the Frequently Asked Questions is not included. And if visitors don't visit the website, then they're missing out on useful information.
The before and after, at least for me, wasn't drastic. This means that I didn't notice much of a difference between how well my previous detergents were cleaning and how well Crystal Wash cleans. But, as the website says, it cleans as well as detergent.

Although this was a bit disappointing after reading the rave reviews that I had read and seen the before and after pictures on the Crystal Wash website that I had seen, I decided that I still like the Crystal Wash units, because of how convenient, and natural they are.

The shipping costs are, is in my opinion, quite outrageous!

As of the writing of this post, Priority Shipping, which you have to pay is $12.95 (and you get the units in 2-4 days). Your only other option is to get USPS Express Mail, but that would be $39.95. Holy Moly! Practically the price of another Crystal Wash set, and you're not even told on the order page how many days you will get your box in.
The cost of the Crystal Units with shipping will vary depending on where you buy the units, assuming you go with Priority Shipping.

It would be nice if this was an Amazon Prime item to avoid S+H.
You'll pay $52.95 on the Crystal Wash website if you buy using the $10.00 off discount by using this link.

One downfall is that the Crystal Wash company doesn't offer discounts for buying multiples, but they still list the prices for what each item, or multiple sets of this item would be if you bought 1, 2, 3, or 4 sets.
My Wishes:
My number one item on my wish list would be that the Crystal Wash would leave the clothing with a nice, natural but yummy scent.

Why?
Because I don't know if it's just me, but we often associate clean with a fragrance.
However, I wouldn't want to use a synthetic fragrance to clean.
While it is possible to add essential oils, detergent or fabric softener to your laundry and still use the Crystal Wash units, that's one more step, one more expense and one more thing to remember.
If Crystal Wash offered units in a variety of natural scents it would be Heaven-sent.
Of course, offering a non-scented version for people with perfume sensitivities would be fine.
Me? I prefer scented.

Crystal Wash has a 60 day money-back guarantee, but, the customer has to pay return shipping (since S+H are nonrefundable) and there is a $9.95 restocking fee. Shipping insurance for the product is also non-refundable. I wish, for the sake of promoting more trust in this product, which is already very trustworthy, that returning a product was truly 100% refundable, especially due to how expensive shipping this product to your home is to begin with. (Maybe only insurance could remain non-refundable). Because think about it, if you pay for shipping to and from your home… $12.95 X 2= $25.90. More than 1/2 of what the units cost.
Crystal Wash says that the units should be recharged every 30 uses for an afternoon, but it doesn't specify how many hours would be ideal. See what I mean about a need for concise directions?
With life as busy as it is, it would be nice if there was an old-fashioned way of keeping a record of how many times you've washed.

Perhaps having a calendar that came with the box or that you could download from the Crystal Wash website (preferably the former due to the fact that there may be people who don't like to log onto company websites, who simply don't have a printer or ran out of printer ink) where you could write the total number of washes that you did per day would be helpful.
If there was some way that the Crystal Wash units had that information in them that would indicate how many washes were left, that would be even better… but then again, technology and water don't usually mix.
For the more technology inclined, maybe an app would work. Although personally, I think it's more convenient to have a calendar on your laundry room wall to jot this number down, because although you would have to total up the days, … it would be sad to accidentally wash your smart phone.
I think that the easier solution would be to have a chart with 1,000 boxes organized by sets of 30 days.

This way, there would hardly be any math involved, if you just checked-off one box for every load of laundry.
And that way, when you reached the end of the row, with 30 boxes…. then, you would know that it's time to charge the Crystal Wash units.
Once you've charged them, you could draw a star to know that they're charged up.
Keeping track of this would also allow you to know when you need to start ordering your new set when the 1,000 loads were almost done.
Even if Crystal Wash never implements this idea, this is a good tip for you to implement so that you can keep track of how many loads of laundry you've done with the crystal units.
That's why I'm including a Crystal Wash Laundry Load Tracker PDF that you can use.
The Verdict?
I am really happy with the convenience of using Crystal Wash. It streamlines my laundry, and given the amount of laundry that I do, I'm sure I will be ordering another set before the 3 years are up.
I'm a supporter of innovative companies that come up with innovative products, that are truly useful and eco-friendly.
Crystal Wash is precisely that.
Are exactly as I imagined them? No because I had higher expectations.
Are they totally worth it?
Yes, because for $50.00 I don't have to make/buy, store or measure any detergent. It's saves money, time and sanity. And it preserves the longevity of our clothing and of our health.
In the end, it helps me make laundry, a task that is not so lovable, a little bit more family and environment friendly, and that's something I can be proud about.
It's Your Turn!
So, what do you think about this innovative product? Are you ready to give Crystal Wash a try?
If you have used it already, what do you like the best about it?
Leave your comments below.